How to Find Gullivarrr & Communicator in ACNH | Animal Crossing New Horizons Pirate Gulliver Items List
7/8/2020 2:37:01 PM
Many players are now immersed in exploring new features brought in Summer Update wave 1, which introduces a brand new special character - Gullivarrr, offers a set of pirate rewards. Here Mtmmo.com presents the Animal Crossing Gullivarrr guide featuring the full list of Animal Crossing New Horizons Pirate Items & how to get ACNH Pirate Gulliver Rewards fast, as well as how to find Gullivarrr and his communicator parts in the game.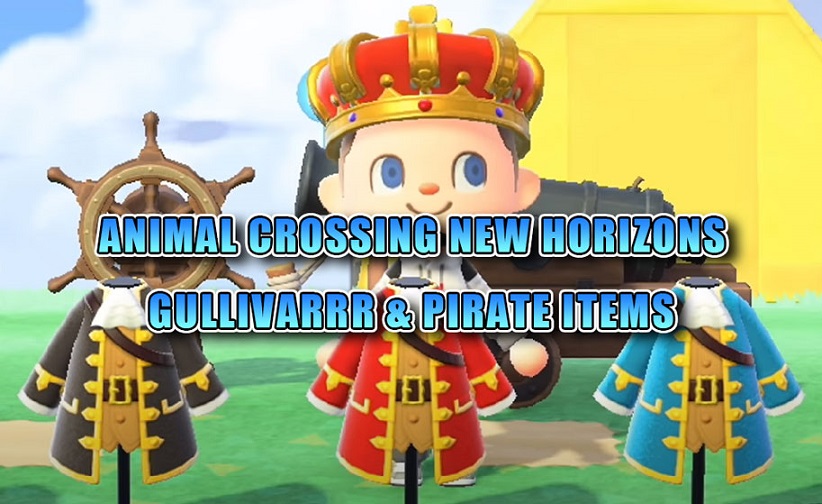 More: Animal Crossing July Fish and Bugs
Animal Crossing New Horizons Gullivarrr & How to Find Gullivarrr in ACNH?
Gullivarrr is a special visitor introduced in Animal Crossing New Horizons 1.3.0 Summer Update (Wave 1) on July 3, 2020, with a similar appearance to Gulliver, but they are separate characters. Gullivarrr, also called Pirate Gulliver, will show up after you purchase a Wet Suit for the first time, and offer ACNH Pirate items as the rewards for helping him find lost communicator. Gullivarrr appears once a week, and can come during the same week as Gulliver, but not on consecutive days. Check our Animal Crossing New Horizons Special Characters Spawn Guide for more details about the spawn time.
Gullivarrr is a random visitor without a schedule, then how to find Gullivarrr in Animal Crossing? First, if your Animal Crossing New Horizons is not the latest 1.3 version, go to the home menu, choose the Software Update, and click Via the Internet. Then, head over to Timmy and Tommy's shop for purchasing a Horizontal-striped wet suit or other wet suits with your Animal Crossing bells. If the Animal Crossing Gullivarrr does not come in the first week, you are guaranteed to find Gullivarrr wash up on your beach on one of the weekdays of the second week. That also means he will show up at least once every two weeks, during Monday to Friday.
The List of Animal Crossing New Horizons Pirate Items - All ACNH Gullivarrr Rewards
If Gullivarrr appears on your beach, you need to wake him up and talk to him. Helping him find out the communicator, you can receive one of the 19 Animal Crossing New Horizons items including furniture and clothing as the ACNH Pirate Gulliver Rewards. Below is the full list of Animal Crossing Pirate Items available from Pirate Gulliver, some objects have variants of multiple colors.
Pirate Ship Helm
Pirate Ship Cannon
Pirate Barrell
Sideways Pirate Barrell
Pirate Treasure Chest
Pirate Treasure Robe
Sea Captains Coat (Black, Red & Blue)
Pirate Outfit (Black, Red & Blue)
Pirate Dress (Black, Red & Blue)
Pirate Treasure Crown
Pirate's Bandanna (Black, Red & Blue)
Pirate's Hat
Pirate's Beard
Pirate Eye Patch
Pirate Pants
Pirate Boots
Pirate Flooring
Pirate Rug
Pirate Wall
How to Get Pirate Items in Animal Crossing Easily?
If you don't want to wait for another two weeks, here is an easy method for earning ACNH Pirate Gulliver Items fast with steps:
Step 1: go to the settings, change the date to the day when Gullivarrr on your island
Step 2: clear the event and change the time to 4:58 on the morning of the day
Step 3: talk to Pirate Gulliver when you hear the 5:00 a.m. broadcast
Step 4: help him to get the rewards and repeat the preceding steps
How To Find the Communicator for Gullivarrr?
You need to find the Gullivarrr's communicator parts through diving in the ocean instead of digging on the beach, wear your wet suit in order to swim in the sea. Similar to looking for Animal Crossing sea creatures, when you notice bubbles floating to the surface, and there is a small-sized shadow underneath, try to dive to the water and take the communicator. Make sure to return it to Gullivarrr if you get that, and a gift will be sent to your mail the next day.