Animal Crossing New Horizons Cottagecore Island: Best ACNH Path Patterns & Design Tips
7/16/2020 3:47:52 PM
Cottagecore island design is one of the most trendy things in Animal Crossing New Horizons currently, its design style is focusing on the forest and woodsy areas mixed with random item placement, mismatched patterns, and paths. Browse the most popular ACNH path patterns, maybe you'll get some inspiration. You can also check the following tips for the Animal Crossing New Horizons Cottagecore island designs.
Animal Crossing New Horizons Cottagecore Design Ideas - Best ACNH Path Patterns
In New Horizons, you can customize how wide and how narrow you want the path to be and you can actually fit this around tighter areas, it's very customizable. You can remove some weeds and give it a defined shape. Here are some of the most popular Animal Crossing New Horizons custom design patterns posted by different players, for paths on the ACNH island. To get access to these path patterns and use on your island, look at the following picture, you need to enter the Creator ID on the left or Custom design ID code on the right of the specific pattern. More Animal Crossing design ID codes please head over to AKRPG.COM.
1. Realistic Rock Path
Custom Design ID Code: MO-HKKC-B7LY-QSWD
(Posted by Anonymous)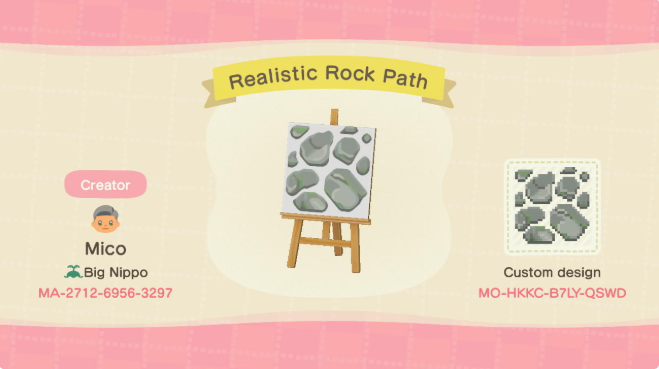 2. Flower Path
Custom Design ID Code: MO-2D33-3D7P-S3PX
(Posted by Anonymous)
3. Mossy Stone Pathway
Custom Design ID Code: MO-TF8J-MW0J-JJQQ
(Posted by Creampuffe)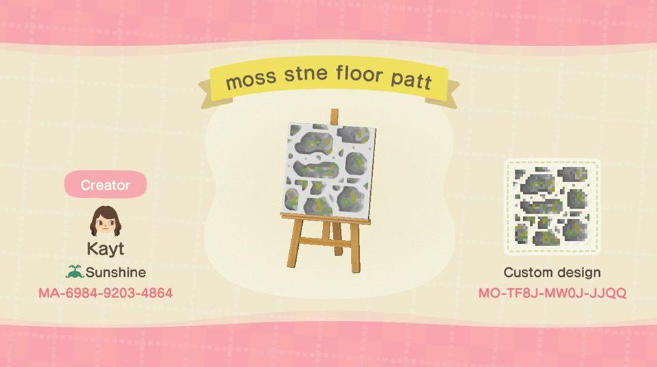 4. Herringbone path
Custom Design ID Code: MO-08V3-MTVC-S9V8
(Posted by LeggoMySteggo)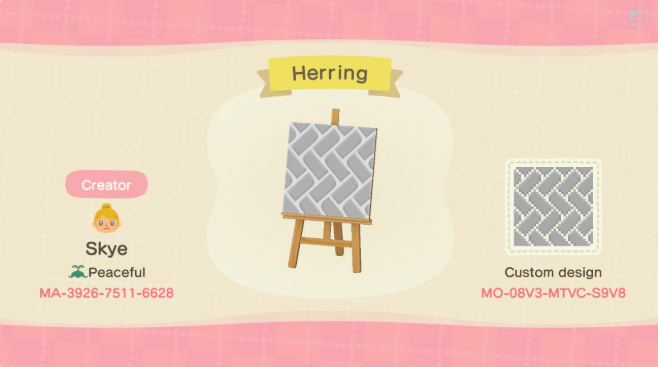 5. Floral Path
Custom Design ID Code: MO-BK20-7SCC-FCX9
(Posted by Mwhei)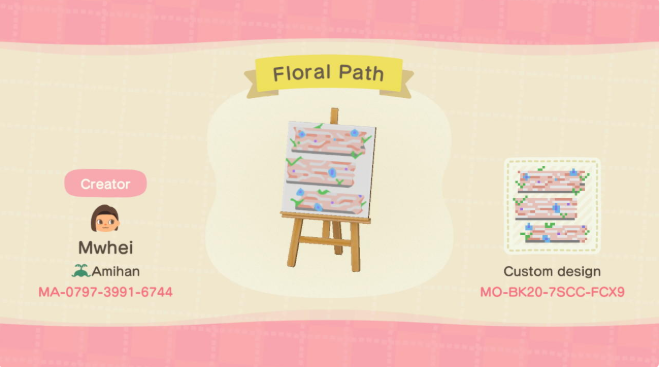 6. Rock Path
Custom Design ID Code: MO-TNN9-0CVM-JCDM
(Posted by Anonymous)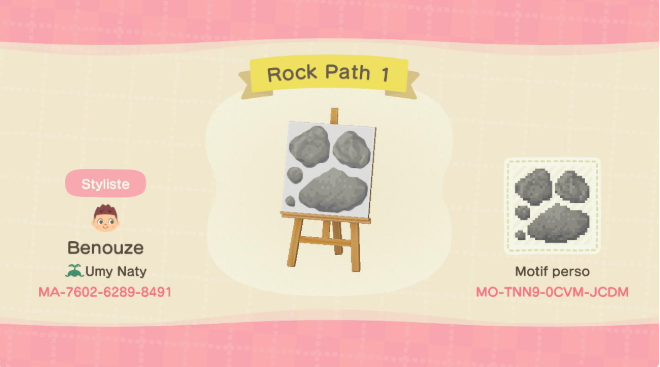 7. Vertical Wood Path
Custom Design ID Code: MO-2BLT-J4TP-RCH3
(Posted by Luth)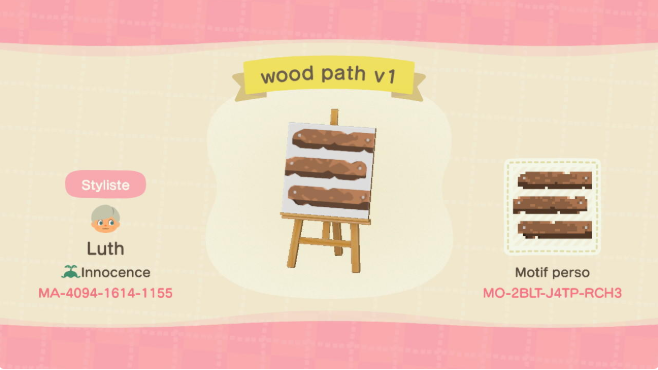 8. Hexagon Path
Custom Design ID Code: MO-9MFK-0K8G-0V67
(Posted by Acaitart)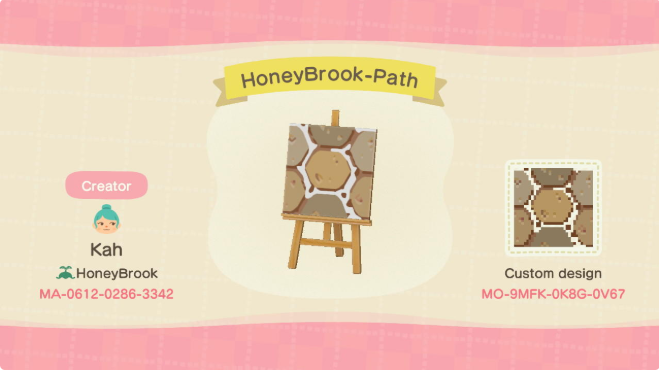 5 Tips for Animal Crossing New Horizons Cottagecore Island Design
1. Complex terraforming: one of the themes of Animal Crossing New Horizons cottagecore island is lots of complex terraforming, avoid straight lines and right angles, which make the overall look more natural and cozy, especially for terraforming the rivers or cliffs, it's also a good idea to create little nooks and secret areas. Within those areas, you can add little sections such as a garden farm cafe or a villager house by adding multiple distinct sections. For your waterfalls experiment with creating multiple layers, if you can try incorporating single lane and double lane streams.
2. Decorate with suitable items: make sure your items and decorations fit the overall theme. You can have a theme of your cottagecore island and use related Animal Crossing items with appropriate colors to decorate it. Note the look of the trees and plants. Some players use out of season bushes, as there are not have any flowers or berries on them, just stay green.
3. Custom ACNH Cottagecore paths: once you've unlocked the Able Sisters store, you can download the Custom Designs app and use it to draw the patterns that you want to, such as stone paths, wooden planks, picnic blankets, little flowers, and more, to fill the empty space.
4. Use lots of flowers to decorate the paths, arrange the color properly. Try to find a cohesive color palette, you can choose bright colors or cool colors, it's up to you.
5. Do not limit to one design style, when you see other amazing islands layout or decoration, you can make a little adjustment on what you already have.