ACNH Villager Daily & Birthday Gifting Mechanics In V1.4 - Animal Crossing New Horizons Gift Guide
8/12/2020 5:29:43 PM
In Animal Crossing New Horizons, what gift you should get for your villagers to earn friendship points fast? There are a lot of important changes for Animal Crossing New Horizons friendship gifting mechanics in the Summer update 1.4.0 version. In this guide, detailed ACNH Gifting Mechanics and Tips are presented to help you can get the right daily presents, birthday gifts for your neighbors, and increase the chances of getting framed photos.
Animal Crossing New Horizons Villager Gifting Tips
It is known so far that your friendship in Animal Crossing New Horizons grows when you give gifts to a villager and do tasks for him or her. But what gifts do your future friends like? In fact, with the wrong gift you can do more harm than you build friendship with the person. You can get four points for a gift-wrapped interior decoration item, but if the item does not match the resident's style and they still place it in their home, it will ruin their interior design. With the ACNH 1.4 update, there are a lots of changes to friendship gifting mechanics.
Thanks @yuecrossing for updating the newest information and ACNH Gift Tips on Twitter to help us:
ACNH Villager Daily Gift Mechanics & Tips
Once the friendship points reach 30 points (friendship level 2), you obtain the chance to give a gift to the villager once a day, this is referred to Daily Gifts which could be furniture, critters and clothing even garbage. You can give the daily gift to the villager directly or wrap it first with paper at Nook's Cranny. And the friendship points would be rewarded depend on what the gifted item is and its sell value. But there are some changes about the Daily Gift Bonus Points calculated:
You can earn additional bonus points based on your friendship level and the gift's, and also receive a gift back from your villagers, with the possibility of getting wallpaper/flooring introduced in 1.4.0 version.

Villager won't give you a gift back you right way if your inventory is full, instead of mailing a gift to you the next day.

l85% Furniture/Clothing modifier in regular bonus point and wrapped bells trick no longer work in 1.4.

Keep your inventory full, the effective chance of receiving a photo is higher

lIn version 1.4, stackable ACNH items are judged by the combined value of the stack, so you must wrap the gift using paper to give an entire stack.
Check out how do villager friendship base points and bonus points calculated for daily gifts from @yuecrossing's guide: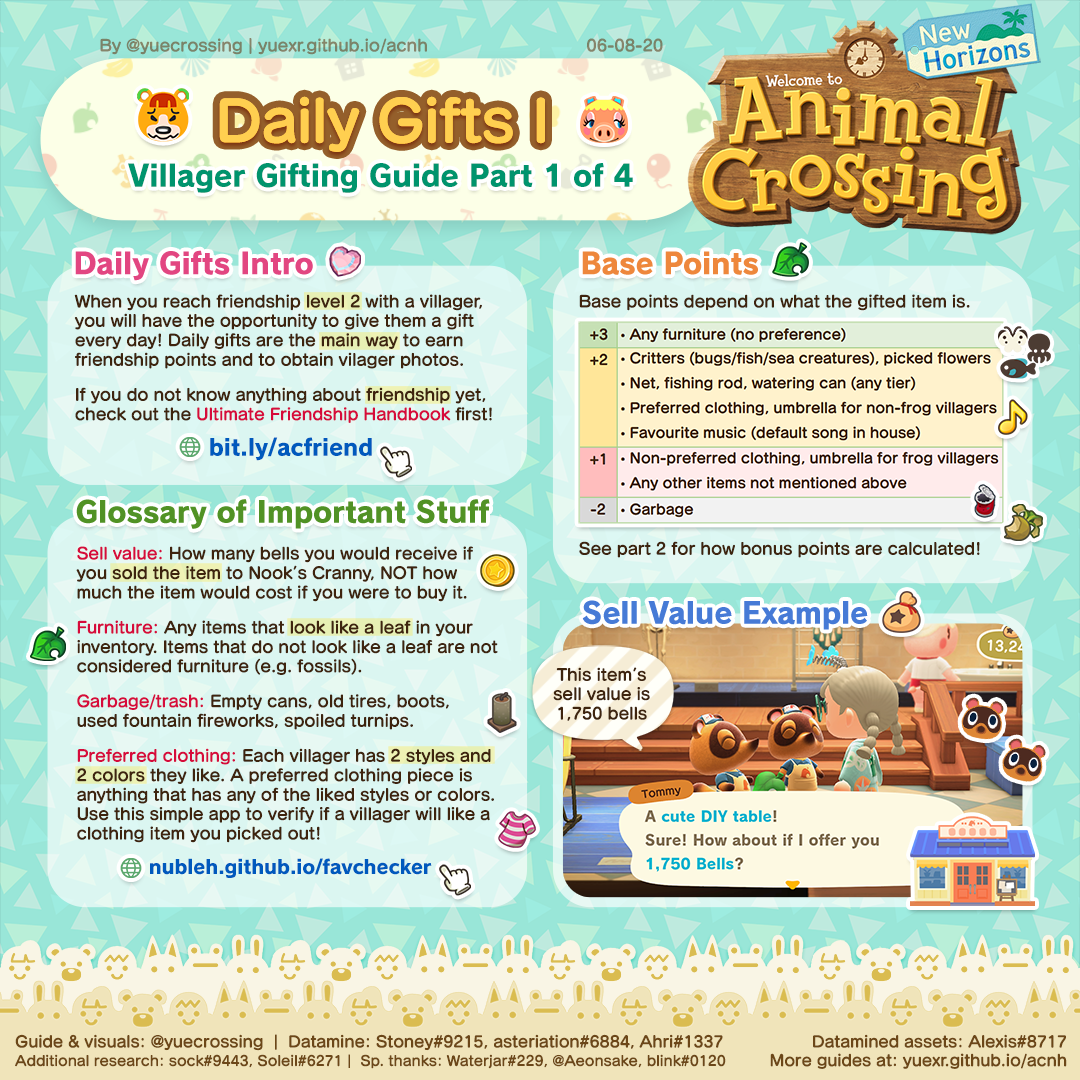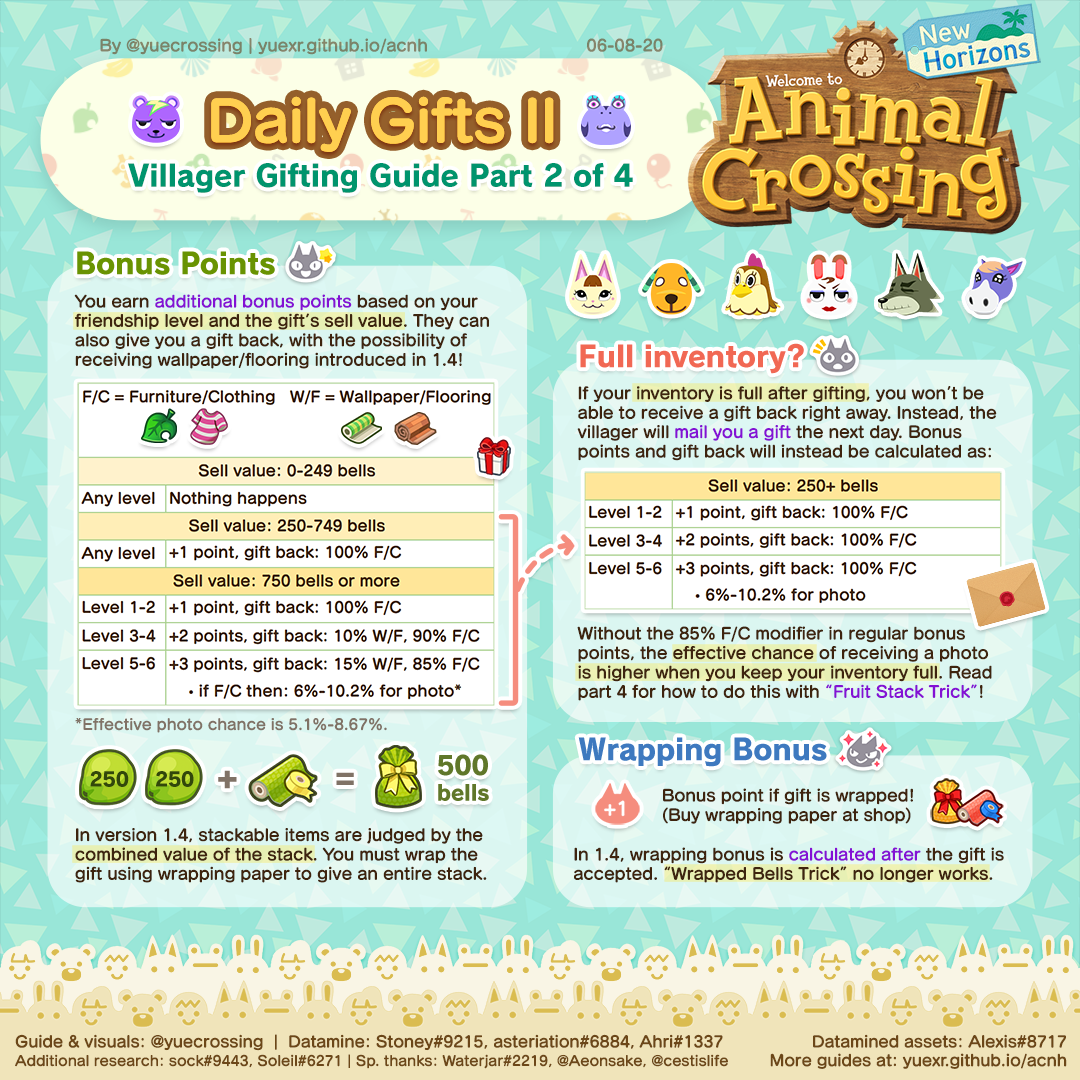 ACNH Villager Birthday Gift Mechanics & Tips
To level up your friendship with villagers, give gift on their birthday is always the great way. Also you can get friendship points as a reward by sending nice birthday gifts to villagers.
Birthday gifts are ranked by tiers based on the item sale value in ACNH bells, and points are rewarded based on the gift's tier.

You will always get gift mailed back to you the next day, unless you send rubbish present to your villagers.

A single wrapped fruit is the easiest tier A gift, full 8+ points and a chance of photo will reward to you.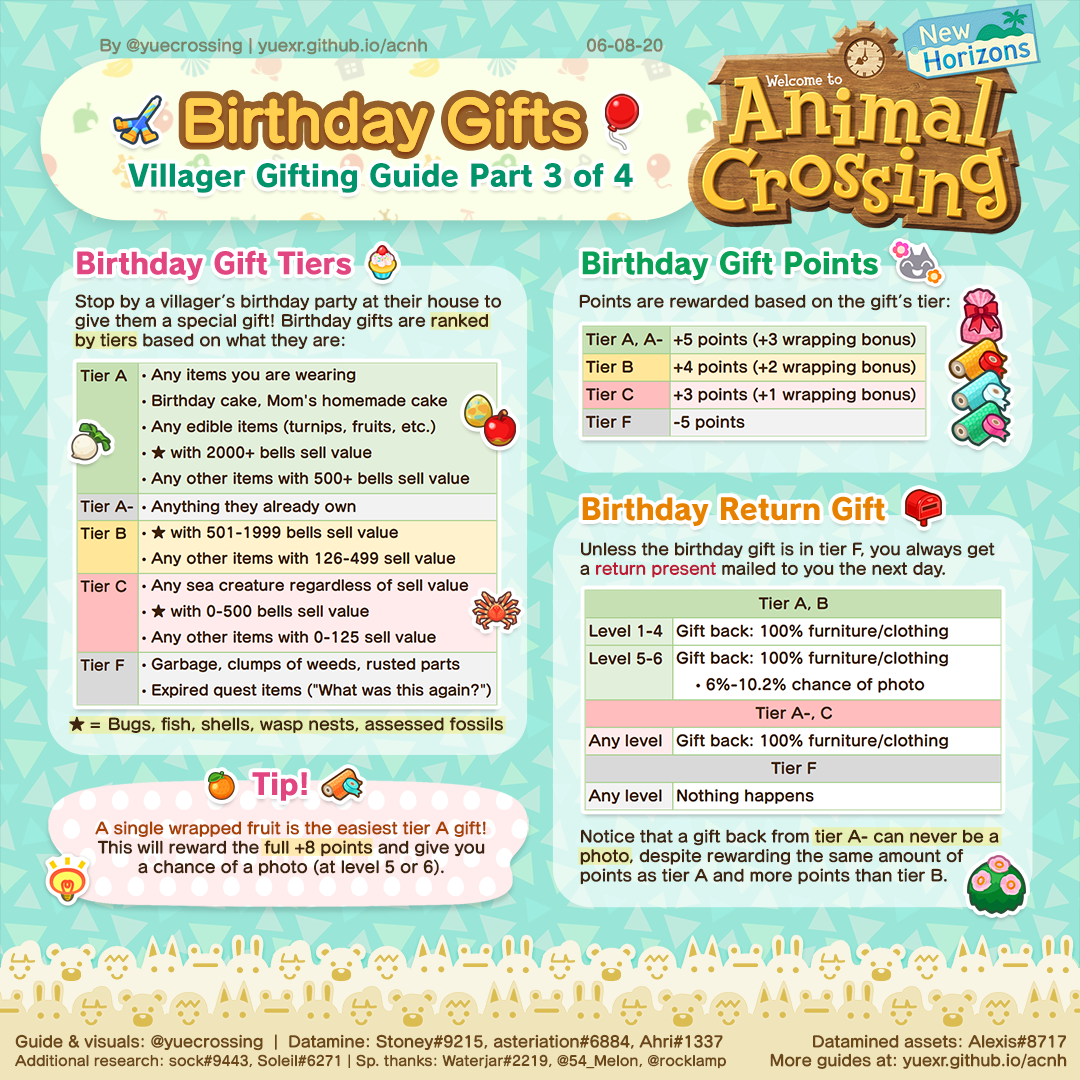 Animal Crossing New Horizons Extra Gifting Tips
Expect the daily and birthday gifts, there are also some other ACNH gifting tips can help you earn more bonus points, framed photo and gifts.
How To Increase Framed Photo Chance In ACNH: At friendship level 5-6, you have a 6%-10.0% chance for getting a photo. The photo chance from regular daily gifting is 15% lower than when your inventory is full, so use the below "Fruit Stack Trick" is the best method for farming photos.
On the blew guide, @yuecrossing also list the safe ACNH gifting list for you: