ACNH November 2.0 Update 2021: New Villagers, Furniture Items, Island Customization & More
10/16/2021 5:20:19 PM
As the schedule, Nintendo just revealed a long trailer of the following ACNH 2.0 update in November, the major 2021 update will come with new villagers, returning characters, new furniture, island customization options and more big changes to the game. Let's get into everything about ACNH November 2.0 Update 2021, covering new villagers, new furniture items, The Roost cafe, cooking & farming, Kapp'n, Gyroids, island customization and more.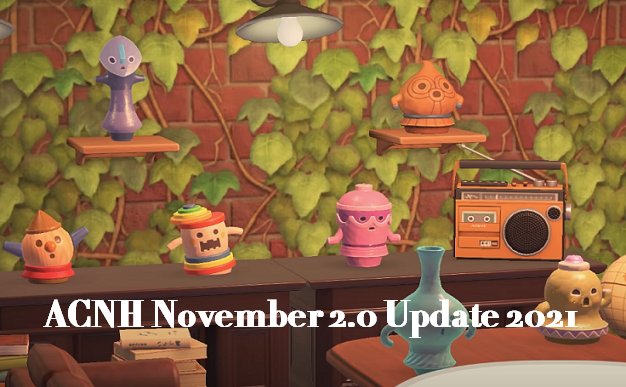 Related Read: ACNH Donation Box 2.0 Guide
Animal Crossing New Horizons 2.0 Update 2021 - ACNH Update November 2021
ACNH New Villagers 2021 & Happy Home Paradise
There are totally of 18 new villagers added to the ACNH 2021 update, 14 brand new villagers that have never been seen before in Animal Crossing, including new NPCs, and 4 new villagers for New Horizons. These new villagers will be available as amiibo cards featured in Series 5 which goes on sale from November 5, the same as when the 2.0 update drops.
Sasha
Ione
Tiansheng
Shino
Marlo
Petri
Cephalobot
Quinn
Chabwick
Azalea
Roswell
Faith
Zoe
Ace
Rio
Frett
We have two brand new NPCs: Nico and Wardell, the first appearances of these two villagers are in Happy Home Paradise expansion DLC, which needs to pay and included in the premium Nintendo online membership. Nico appears to be a cute little monkey who will guide you when designing happy homes for your villagers, he also greets you when you step off the plane and onto the archipelago paradise where you can design custom vacation houses for all your villagers, when you start designing each house, Nico also accompanies you and your client to their decorating destination. Wardell appears to be in charge of selling you rare Animal Crossing New Horizons items that you can only buy using pokey, which is the exclusive currency of Happy Home Paradise, he also accompanies you to homes on the Happy Home network, so he may act as a guide for this feature similar to Nico.
New ACNH 2.0 Update Items 2021
Gyroids are back with multiple variations and customization options. You can put the gyroid item at your home everywhere you want, each gyroid plays a unique sound, you can even customize them to match their surroundings. When you find gyroid fragments then plant and water them, they'll mature into a lovely gyroid overnight. If your gyroids have grown on your island, you may find more the day after it rains.
Below is a simple list of the new ACNH 2.0 update items we have already know until now.
Park fencing
Block fencing
Corrugated iron fencing
Large lattice fencing
Log-wall fencing
Green bamboo fencing
Bamboo-slats fencing
Log fencing
Frozen fencing
Music box
Plaza ferris wheel
Plaza merry-go-round
Plaza train
Plaza teacup ride
Plaza game stand
Inflatable plaza toy
Plaza balloon wagon
Curved streetlight
Park fountain
Wood-shade lamp
Amazing machine
Wooden ladder set-up kit
Gyroid fragment
Gyroid (different variations like Squeezoid, Drummoid & Squeakoid)
Click here to check out the Ultimate Item List ACNH November Update by @crossingcolleen
Fast to browse all the ACNH 2.0 Update Items with different variations. Select "New".
ACNH Brewster & The Roost Cafe
Brewster is returning with the new shop The Roost located at a corner of the museum, the proprietor Brewster will open the Roost quietly after you fulfill a certain favor for museum director Blathers, you can take a relaxing break in the cafe and enjoy some hand-selected coffee. You can also invite other characters to join you by using Animal Crossing series amiibo figures and amiibo cards.
Kapp'n is Back in ACNH
You can find Kapp'n lounging around on your island's pier, he'll ferry you to a destination via his boat, it's worth the journey, just to be serenaded by his sea shanties, your destination is a hidden gem that only captain knows about, you might docket an island with mysterious flora or an island with a different season or time of day.
Harv's Island
Harv's Island is undergoing some changes, he wants to create a plaza with all sorts of shops with a little help from his friend Harriet, contribute Animal Crossing New Horizons bells to the cause, familiar visitors like Saharah and Kicks will have shops here, Reese & Cyrus can help customize furniture that you can't customize on your own, Katrina will reveal your fortune for that day, and Harriet can even teach you some different hairstyles.
Cooking and Farming
With the 2.0 New Horizons, players are able to farm crops and vegetables on their islands, and cook food with these farm items and other materials that can be found around the island. Available vegetables including tomatoes, wheat, sugarcane, potatoes and carrots, you can cook various dishes in your kitchen.
ACNH Island Customization Options and Other Improvements
- Permanent ladder set up kits: players can get a new recipe to craft a permanent ladder that can be placed alongside cliffs.
- Fence customization: 9 new fence recipes are added to the game.
- More exterior options are available, you can modify your home's exterior to match your island's landscape.
- Increased storage up to 5,000.
- Nook Miles can be used to redeem new items
- Maximum number of bridges and inclines are changed to 10
- Pro camera app with new perspectives and angles.
- Patterns that were previously used for customizing items can now be worn or used as flooring and wallpaper.
- Ceiling decor can be added to each room.
- 11 new hairstyles and 11 new reactions.
- ABD terminal.
- New K.K. Slider songs.
- New storage shed.
- New furniture types in Nook's Cranny.
- Players can navigate through tight spaces in the house now.
- Island Life 101 app provides tips on enjoying your island.