8 Best ACNH Map Layout Ideas - How to Layout Your Island in Animal Crossing
3/16/2022 5:32:12 PM
Players are allowed to change their island layout by using the Island Designer app, which mainly involves building cliffs and structures, doing water terraforming, and more. How to layout your island in Animal Crossing? We've found the 8 best ACNH map layout ideas with stunning island designs.
Related Read: Best ACNH Gyroid Display Ideas
8 Best ACNH Map Layout Ideas - How to Layout Your Island in Animal Crossing
How to design your island layout in Animal Crossing New Horizons? When you are planning and organizing your map, you are probably able to take some points away from these examples. You can take a tour of any islands with the listed dream codes or addresses. Fleurs Crossing introduced 15 map layout ideas for ACNH islands, here are selected 8 maps of them. Find put cheap ACNH items and a ton of Animal Crossing design ideas on Mtmmo.com.
1. Gardenia (DA-2202-8493-9528)
The Gardenia island created by @acnhmjoy contains different types of waterways, it shows a really nice flow. There are two large neighborhoods at the back and two separate villager houses together. It has proper terraforming.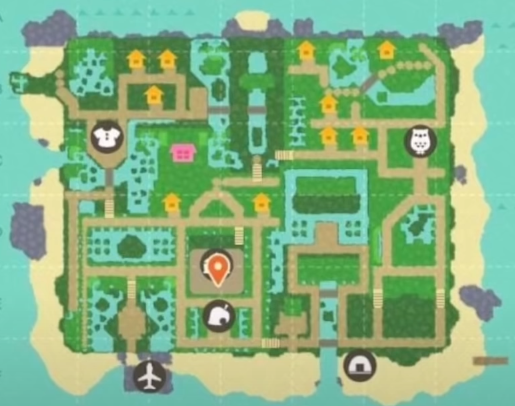 2. Inu (DA-7856-4999-3933)
Inu by @animalcarossing tends to be a town in Animal Crossing, comes with a couple of plaza areas and the paths in between look nice. There are a few inclines and an original river mouth, it flows well throughout the whole island. We've also got some neighborhoods just over the river in the kind of center position.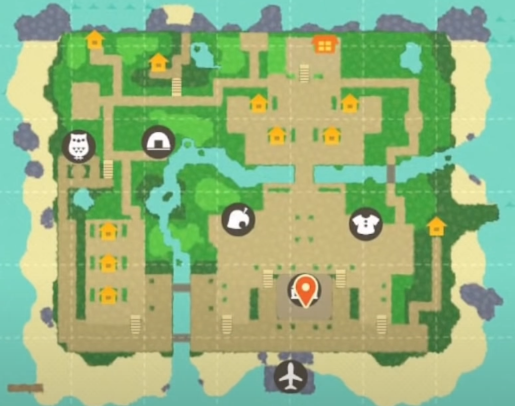 3. Helevorn
Helevorn by @Mellryn is a typical natural ACNH island, there are custom paths with circles dotted throughout and some interesting shapes. The water terraforming on this island is amazing, with so many streams coming off the main rivers and a few little ponds. Villager houses are dotted around the map, and the neighborhoods are laid out in many areas.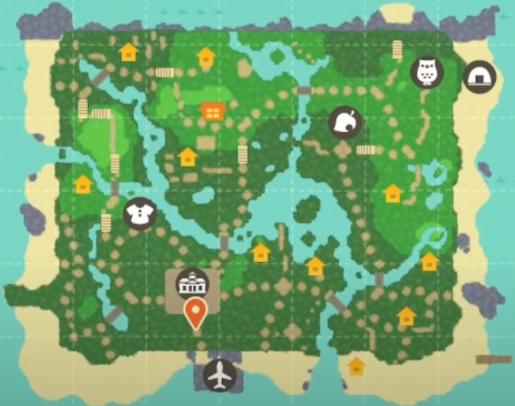 4. Sonder (DA-8111-3825-9566)
Next, we have Sonder island by @ACNHIslaRosa, this is a customized map, it is characterized as a botanical garden island, which looks beautiful. She has incorporated straight-edged paths with kind of circular elements. She separated the houses and there is a collection on the beach, which is a unique layout.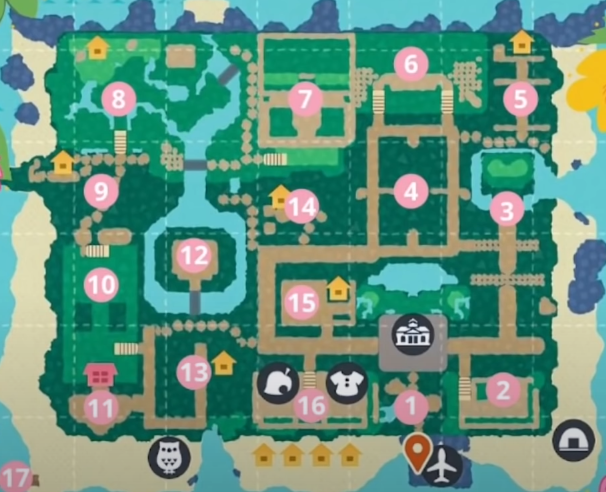 5. Starfeild (DA-4005-5369-7736)
Looking at the map layout idea of the Starfeild island by IceFoxDoodles, this is also a custom map that is gorgeous, you can take some inspiration from the way that she's done the layout of the island. There are a few little plaza areas with post office, cafe, library, etc., the water terraforming is also stunning, and the big ponds, she kind of separated everything out. You can think about what areas you want first when you plan your island layout.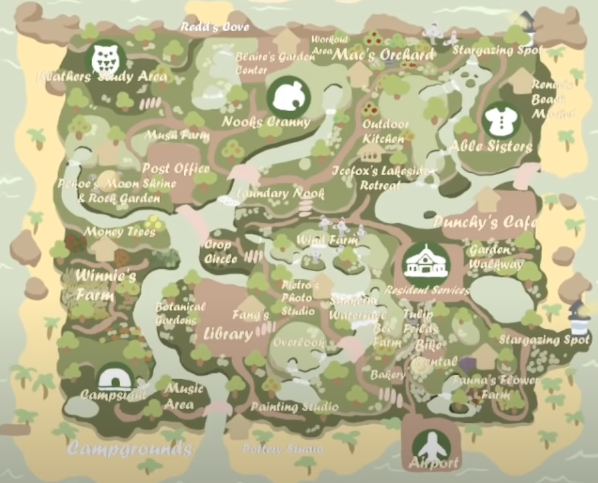 6. Amberfalls (DA-6160-1751-1885)
On the island of Amberfalls by @Iampoodles, there are so many hills and little bits of water, long rivers flowing throughout the island, a lovely land bridge at the back leads the way to the museum. Those land bridges that can be seen on the map make the island a bit distinct. On the bottom river mouth, she created a lovely pond, it gives you some ideas on how to work with the river mouths.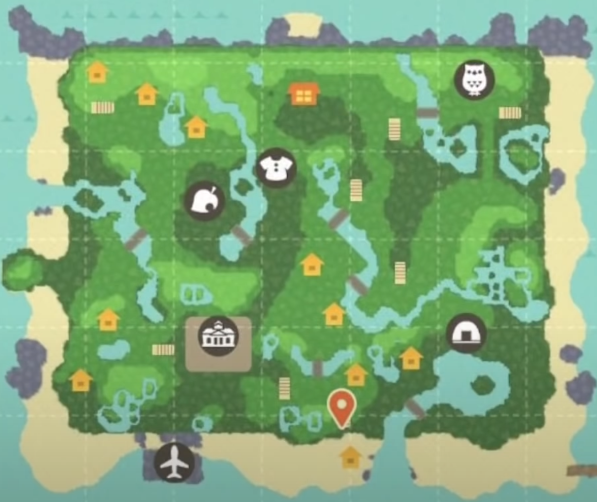 7. Bumi (DA-3284-9847-4502)
The island of Bumi by @greeleafpiles has town and natural elements, the modern street in the left-hand corner, a structured canal, nice water terraforming at the back left with lots of different river inlets. Then on the right, there is a lake with the house in the middle, you can take a tour to see how it looks in reality. You have a neighborhood behind the Resident Services and the shops on either side, the layout is not common but is a great idea. In addition, the player made use of the peninsula by putting the campsite there.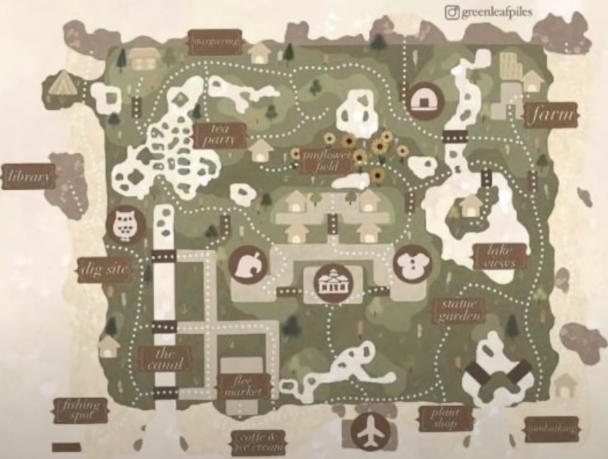 8. Eventide (DA-2281-7754-2197)
The last map layout idea is from the Eventide island by Koala, a long river running from the left to right, and there are lots of other cool water terraforming works. The houses are basically located in the north part, the user separated one of the river mouths with a land bridge, and the entrance would be amazing.