D2R PTR 2.5 Patch Notes - Release Date, Terror Zones, Build Template, Gameplay and More
8/26/2022 11:02:21 AM
Similar to 2.4, a new PTR for the upcoming Diablo 2 Resurrected 2.5 Patch is available now. With the addition of Terror Zones, what other things are going to be implemented in the next patch or Ladder Season 2? Let's go over the details of D2R 2.5 PTR Patch Notes.
Related Read: D2R Terror Zones Guide
D2R PTR 2.5 Release Date
The Public Test Realm (PTR) of Diablo 2 Resurrected 2.5 update is set to go live on August 25, 2022, at 10 a.m. Pacific (PDT) or 7 p.m. Central European Time. What to note is that everything in the PTR is subject to change based on the testing feedback, players are expecting more changes and significant features in official Patch 2.5 & Ladder 2. After the update, D2R 2.5 PTR is confirmed to end on September 19 at 10:00 a.m. PDT, and Diablo 2 Patch 2.5 is expected to go live following that.
D2R PTR 2.5 Patch Notes
The biggest thing of the D2R PTR 2.5 is the Terro Zones, which brings an opportunity for players to farm higher-level monsters in a shorter time and obtain more valuable loots, along with that, some gameplay changes and bug fixes are available, but we have not seen any confirmed information about D2R Ladder Season 2.
1. Terror Zones
Terror Zones are a new feature planned to be added to D2R 2.5 Patch, players can choose to play a Terror Zone-enabled game, you just need to select the "Terrorized" option, once the game starts, monsters will focus on specific zones, and you'll receive in-game messages that inform you what terrorized areas you are in, a number of zones in Act 1 to Act 5 can become terrorized in D2R 2.5 PTR. Terrorized enemies will be at least two levels higher than your current level or their level, up to a maximum per difficulty. Your XP and D2R items dropped from killing a terrorized monster will be changed based on the new level. You can also choose to opt out of Terror Zones if desired.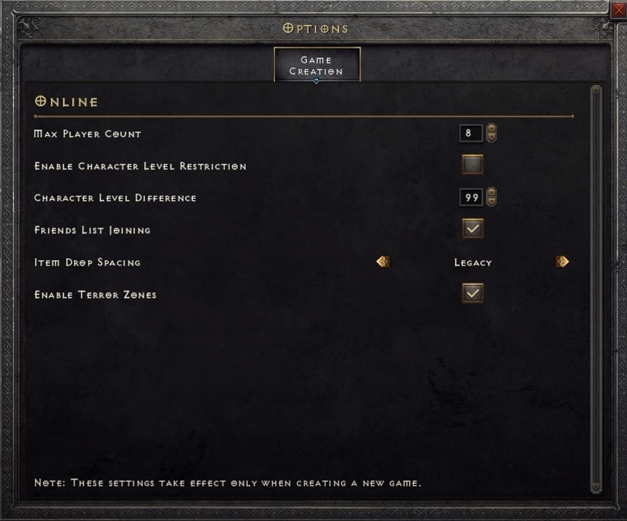 The level of monsters in terrorized areas:
Normal

Base: +2 levels up to level 45
Champion: +4 levels up to level 47
Unique: +5 levels up to level 48
Nightmare
Base: +2 levels up to level 71
Champion: +4 levels up to level 73
Unique: +5 levels up to level 74
Hell
Base: +2 levels up to level 96
Champion: +4 levels up to level 98
Unique: +5 levels up to level 99
List of D2R terrorized zones:
Blood Moor and Den of Evil

Cold Plains and The Cave
Burial Grounds, The Crypt, and the Mausoleum
Dark Wood
Black Marsh
The Forgotten Tower
Jail
Cathedral and Catacombs
Tristram
Moo Moo Farm
Sewers
Rocky Waste and Stony Tomb
Dry Hills and Halls of the Dead
Far Oasis and Maggot Lair
Lost City, Valley of Snakes, and Claw Viper Temple
Harem and Palace Cellar
Arcane Sanctuary
Tal Rasha's Tombs
Spider Forest and Spider Cavern
Flayer Jungle and Flayer Dungeon
Lower Kurast
Kurast Bazaar, Ruined Temple, and Disused Fane
Kurast Sewers
Travincal
Durance of Hate
Outer Steppes and Plains of Despair
River of Flame
Chaos Sanctuary
Bloody Foothills
Frigid Highlands
Glacial Trail
Crystalline Passage and Frozen River
Arreat Plateau
Nihlathak's Temple, Halls of Anguish, Halls of Pain, and Halls of Vaught
Ancient's Way and Icy Cellar
Worldstone Keep, Throne of Destruction, and Worldstone Chamber
Build Templates and PTR Focus
According to Blizzard's news, they will be offering some popular D2R builds as the templates for different characters during the testing period, any changes implemented during the PTR including Terror Zones and other gameplay aspects are possible to be altered again, and they may shut down the PTR for maintenance.
Gameplay, Quality of Life, and Bug Fixes
Some little issues of classes, mercenary, items, skills, and gameplays have been fixed. For example, the Act 5 Dual-Wielding mercenaries can animate two attack swings instead of one now, and for the Necromancer class, difficulty penalties for life drain will apply to the Blood Golem's attacks and the issue of Blood Golem was not correctly stealing life from a PvP opponent was fixed. There are massive bug fixes about Quality of Life, Localization, PC issues, and game stability, click here to check out the complete bug fixes.