Elden Ring 1.06 PvP Build - Best Madness Build in Elden Ring After Patch 1.06
8/31/2022 3:21:33 PM
Various effects in Elden Ring allow different one-shot builds to destroy bosses and others. After Patch 1.06, here we are going to introduce an Elden Ring 1.06 best build for PvP, which is an overpowered Madness build equipped with the best weapons, spells, talismans, crystal tears, and more.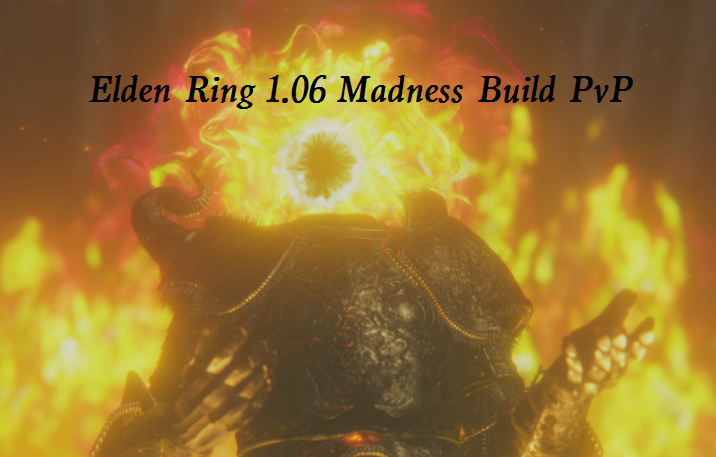 Elden Ring 1.06 PvP Build - Best Madness Build in Elden Ring After Patch 1.06
This is an Elden Ring Madness build after patch 1.06, which helps you take enemies down with one shot in PvP. Madness is an effect that can make targets lose FP and take damage, Madness can be inflicted through weapons, skills, and spells. Once the madness meter is filled, the effect will be triggered.
Stats
- Vigor 60
- Mind: 18
- Endurance: 9
- Strength: 16
- Dexterity: 42
- Intelligence: 7
- Faith: 42
- Arcane: 10
Weapons
For Madness weapons, you'll want to get Frenzied Flame Seal and Vyke's War Spear.
- Frenzied Flame Seal: a sacred seal can be obtained when you complete the Hyetta's questline. It causes 55 madness buildup.
- Vyke's War Spear: you can grab it from Festering Fingerprint Vyke. It causes 65 madness buildup.
Armors
For this 1.06 Madness build, you can go for any armor set that you like, you can go for a tankier build by using the Bull-Goat Armor and run it with Fingerprint Stone Shield, which requires putting some points into endurance and strength. You can also use Maliketh's Armor and equip the above two weapons.
Talismans
- Flock's Canvas Talisman: boosts the potency of incantations by 8%. To get it, you need to complete Millicent's entire quest line by slaying or helping her at the end, then when you head back to Gowry, he'll be crying, that's when to kill him for the talisman.
- Radagon Icon: it shortens the time it takes to cast spells, head over to Raya Lucaria Academy, this talisman can be found in a treasure chest on the second floor near the Debate Parlor Site of Grace.
- Shard of Alexander: raises the attack power of skills, you can get it by finishing Alexander the Warrior Jar's questline.
- Erdtree's Favor +2: boosts HP by 4%, stamina by 9.6%, and equip load by 8%. To get it, you need to go to Leyndell, Ashen Capital, this talisman is located on top of a large tree branch in the middle of a big courtyard. There are three separate Lesser Ulcerated Tree Spirits guard the Elden Ring item, you can stay close to the left wall of the courtyard to reach the tree branch on the other side of the courtyard and get the talisman.
Then, you can use Godrick's Great Rune to get a five-point boost on all attributes
Physick Flask
- Cerulean Hidden Tear: for 15 seconds of infinite FP, you can find it in the Mt. Gelmir region west of the Altus Plateau.
- Faith-knot Crystal Tear: boost your faith attribute, you can find it on the east side of the Church of Pilgrimage.
Incantations
When it comes to the best Madness spells, you can go for these options.
- Frenzied Burst: you can get it by killing a Teardrop Scarab in the Liurnia of the Lakes region, South of the Church of Inhibition near some frenzied rats.
- The Flame of Frenzy: can be found on a corpse by a pillar on the left side of the Callu Baptismal Church in the Weeping Peninsula.
- Unendurable Frenzy: you can find it at the Yelough Anix Ruins on the southwest side of the Consecrated Snowfield.
- Howl of Shabriri: you get it at the top of the Frenzied Flame Tower in northeastern Liurnia.
- Inescapable Frenzy: located within the sewers of the Royal Capital of Leyndell, the Subterranean Shunning-Grounds.