Lost Ark Artist Guide: Release Date, Engravings, Skills, Identity, Builds, Combat Stats & Gameplay Tips
2/2/2023 5:01:01 PM
In the February Roadmap, the MMORPG Lost Ark announced the new class artist wasn't supposed to arrive until April, but now it appears earlier in the game. This class came out in the Korean version a year ago and caused a big rush there. To help you get a good ahead idea about the new class, here we sorted out the guide of artist featuring release date, skills, identity, combat Stats, engravings, and more gameplay tips!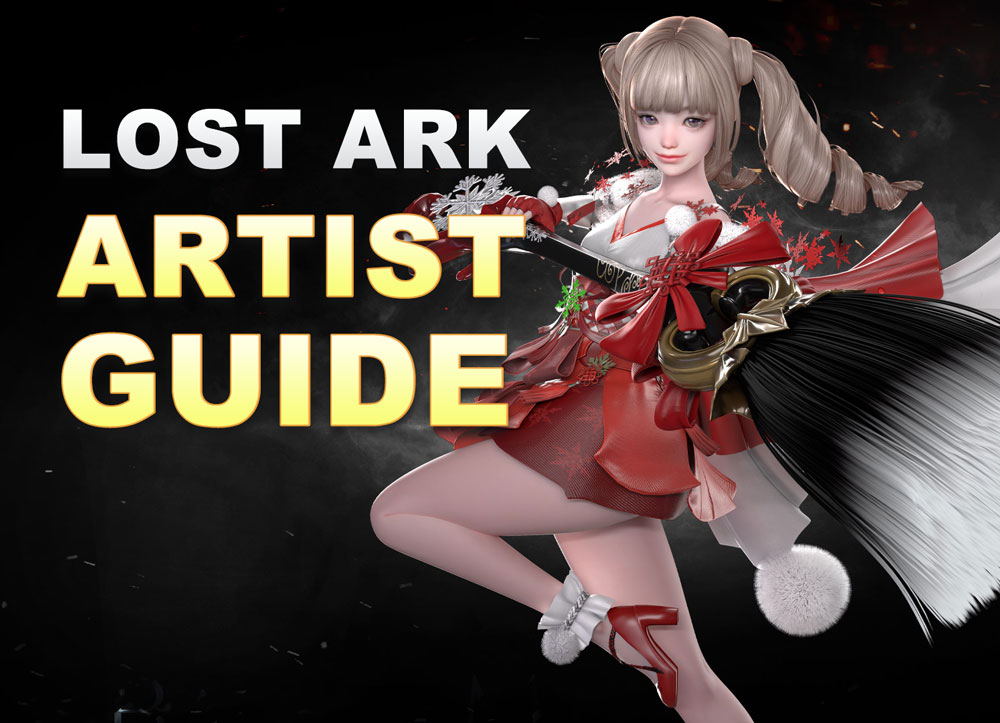 Lost Ark Artist Release Date
When does the class Artist come to Lost Ark? Lost Ark had announced that it would not bring the new class until April 2023, instead of two months earlier as planned. They wanted to make adjustments before it appeared in the western version of Lost Ark. However, this has apparently been completed faster than originally thought because now the roadmap has been adapted. The new Artist class is now set to be released in March of 2023, most likely in the, however, a more precise date is not yet known.
Lost Ark Artist Class Guide (Engravings, Skills, Identity, Builds, Combat Stats & Gameplay Tips)
The artist is a kind of link between support and damage class. She relies on a brush with different inks – black ink deals damage, and white ink heals allies. Thus, the "artist" fills a niche, because in Lost Ark supports are rare. Only two supporters in 23 classes are currently available, the artist would be number three. Accordingly, support fans are waiting for the new class, in Lost Ark forums players regularly call for the "artist" to come into play.
Artists is designed to be a support class but however you can play the DPS if you want to, it's not necessarily better than most DPS classes but it is Bible and possible to artifact other papers.
Artist Identity
Wanning Moon (Z)
2 Harmony Orbs

Increase damage by 10% for 10 seconds
What is so different about Artist identity works is you can save up to three robots to select both and if you use Z, it's a 10 damage increase for 10 seconds, it's basically the same as two bumpers from birth so it cost us to Barbara wrestler; however you can do one bumper or three bumpers or like parts too.
Rising Sun (X)
1 Harmony Orb

Heals everyone nearby the orb (Class engraving effect) + heals upon pickup
As for X, you make a Harmony orb that causes one bumper and it tears everyone nearby. Up on the pickup the prayer consumes the orb and gets here additionally based on the artist's Max HP
What makes artists so special is that she doesn't have her done on her identity and is extremely easy to appear meter if you can have your height of time with buffs, so she goes well with every kind of consistent DPS class and her identity is up to one minute or even longer if you use a stimulant.
Lost Ark Artist Builds (Skill Setup)
Skill Setup for Support Artist
Since its release, the artist has everything to be a new supporter, such as purification, mana recovery, shield, and HP recovery. In addition, it has the first and only party member teleportation function and damage immunity, which makes it possible to make super saves in critical moments.
However, this also makes it difficult to operate. Existing supporters (Bard) can actively grant appropriate buffs at the moment of need, but Artists can only receive buffs by interacting with the side receiving the buff. This is elastic in that it gives DPSs proactivity over buff timing, but there is also an extreme where buffs become useless if DPSs can't judge it. In other words, the buffs of existing supporters were focused on improving the average performance of the party, while the painters focused on improving the capabilities of each DPS.
Because of this, the skill set of the painter will vary depending on what style his party DPS prefers, and as a result, the skill composition of the painter immediately after release is very different. It's an inevitable problem unless you're a character like a spearman or a gunsle who can switch skillsets, but since the painter is a supporter, it can feel quite tight that you can't carry all the skills. Regarding this, research on general-purpose skillsets is currently actively carried out among Artist users.
As a normal supporter, the skills to maintain the stigma, Kongkongi, Drawing Sun, Haewell, and Gate of Illusion are almost essential, so five skills are treated as fixed, and there is no concern about the remaining three positions. It's a lot. It mainly adopts uplift, which is a counter and Aden supply and demander, and scattering, which is a neutralization and support skill, and Beomgari, which is excellent in neutralization and destruction.
Supporting: Scatter, Mirinae

Aden Supply / Neutralization: Beomgari, Ongdalsaem, Crane Wings, etc.

Counter gimmick parfait: Uplift, single stroke (when using a specific trap or rune)
A dilemma arises in many ways as a painter who loses the performance of that part. If only supporting skills are adopted, the weakening of neutralization and the decrease in supply and demand of Aden are more noticeable than Holna, and on the contrary, the supporting ability is significantly reduced.
Skill Setup for DPS Artist
There are many negative views on DPS Artist. Aside from the negative views that simply "the original version is a supporter, but with a deal mark and used as a DPS", the disadvantages of the above-mentioned deal painters are combined, and in many ways, compared to other DPS, it is difficult to achieve a single digit value for a DPS compared to other DPS. It is true that there is a shortage. Especially in relation to synergy, if a support painter exists at the party, the deal painter can never enter the party unless it is a dildo pot that does not consider whether or not there is a combination, and there is no reason to bring it in on the contrary. Therefore, most of them are of the opinion that "If you need a DPS, you took another DPS, but there is no reason to get a deal supporter (DPS)." If it is significant over spec or it is not an acquaintance pot, it is difficult to get a job as a dealmaker with an appropriate level of specifications. However, the deal itself is of high quality and it is enough to look down on the lower-ranking DPSs from above, so it must be a DPS worthy of being in a family photo depending on individual control and skill. Nevertheless, it is also true that there is no party synergy itself, the Aden buff does not overlap with the main version supporters, and there is no reason to receive it due to the slow motion and weaker durability than paper.
Combat Stats
Heavy Swiftness (Don't Build Heavry Spec)
- Extremely difficult to play (fr)
- Doesn't generate as fast
- But just another piece of the spec is okay
Our main combats stats to assume this, you can go have a spec bear but it's extremely hard to play and it doesn't generate a mirror that's faster than she appears. However, you can mix a little bit of spec just like one ring or one earring like how other supports do.
Artist Engravings
Awakening

Expert

Full Blossom (Class)

Heavy Armor

Spirit Absorption
It is recommended to go Awakening, Expert, and the support class Engraving, then we recommend to go Heavy Armor since she has the Estelle bright LED just like Bard or Reaper, but however, technically you don't need Heavry Armor if you prefer that play style. Then as for tweet engraving, it's your choice of drops a bitter or better point hit then that will be the classic 5x3. But as for the trending period, people didn't care super found that attack speed is extremely believable on artist and since she has a lot of animation locks and her core skills don't have paralysis immunity, and so they started to better use Spirit Absorption more which ended up with 1 Spirit Absorption and 1 Heavy Armor, or the Spirit Absorption and 2 Havry Armor in ancient settings.
You are going to have to need 2300 Swiftness in order to reach the 140 attack speed cap which is impossible and you don't get benefit from the earning buff from your serve, so this is something you can consider.
Also, she's a first Fitness class, she doesn't need Max MP Increase or that kind of Engravings, because you can have up to three skills that don't need to be levered up to rubber 10, so her mechanics are larger than other zippers. You can run out of Mana if you have high CDR but it can be cardboard with Mana food and such.
Portal
Her other unique specialty is Portal, your teammates can activate it then it forces them to your location with a decent amount of shirts, also it generates a fixed amount of either as well regardless of your spec or dark tune, so you might have seen artists just spamming borders on the ground for no reason. It also works as a credit score without a tripod.
Runes and Others
Not Rewarding

Really bothersome to sort cooldowns

A lot of Wealth and Galewind

With Focus and Overwhelm
As far as she actually doesn't need conviction judgment because it doesn't feel as rewarding and it's really hard to align those scares in order to Pro condition judgment, but she uses the Virgin and Caravan runes and maybe one Focus around very well. You are not going to need as many skill points which is a tripod-dependent class, but it's not terrible and you don't need that many of them either.
Lastly, it's just one of the best stagger in the game without tapping to sacrifice her skill set, and the best sustain, so it is one of the most desired classes in KR Lost Ark.