D2R 2.4 Ladder Nova Sorceress Build - Best Diablo 2 Resurrected Sorc Farming Build
4/25/2022 11:27:24 AM
Want to start 100 Chaos runs in Diablo 2 Resurrected? What character is the best and what gear to go with? Get into this D2R 2.4 Sorceress Build guide to maximize your drops from farming spots once the Ladder first season begins.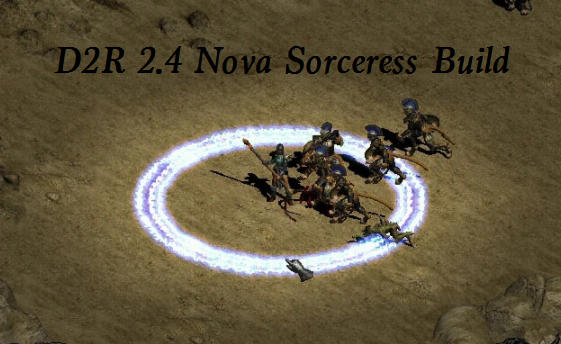 D2R 2.4 Ladder Nova Sorceress Build - Best Diablo 2 Resurrected Sorc Farming Build
Here is an energy shield Nova Sorceress build by Windergard Gaming for Diablo 2 Resurrected Patch Chaos running based on the 2.4 changes, they fixed the bug for mana burn, which made this build be extremely viable, this is also one of the best D2R Sorc farming build for magic find, it's going to be kind of aimed towards your initial farming runs when you get into Ladder, and you can use it to get decent D2R Ladder item drops.
Attributes
Put enough points to strength for the D2R runeword Spirit Monarch and then everything else into energy, this is actually your life pool.
- Strength: 156
- Dexterity: 91
- Vitality: 78
- Energy: 476
Skill Tree
For this Nova Sorceress build in D2R 2.4, we'll max Nova and Lightning Mastery first, the synergy for this is just Static Field, so max out the synergy as well, then put one into Teleport. The second piece to this is the Energy Shield, this is going to be your life pool. The Diablo 2 Nova Sorc is an expert in lightning damage.
Lightning: Nova 20, Lightning Mastery 20, Static Field 20, Telekinesis 20, Teleport 1, Energy Shield 20
Gear
What gear and equipment should you use for this D2R 2.4 Sorceress build? You can go with Shako, Spirit, and Trang-Oul's Claws for FCR. We can actually bump the magic find up even a little more, so we've got a couple of lightning skills and lots of magic find charms, such as Gheed's Fortune, Annihilus, and Hellfire Torch, this is what we are going to run with.
- Weapon: Heart of the Oak (Flail)
- Shield: Spirit (Monarch)
- Helm: Harlequin Crest (Shako)
- Amulet: Tal Rasha's Adjudication
- Armor: Tal Rasha's Guardianship (Lacquered Plate)
- Belt: Tal Rasha's Fine Spun Cloth (Mesh Belt)
- Gloves: Trang-Oul's Claws (Heavy Bracers)
- Rings: Nagelring, Shadow Gyre
- Boots: War Traveler (Battle Boots)
- Charms: Gheed's Fortune (Grand Charm), Annihilus (Small Charm), Hellfire Torch (Large Charm), Sparking Grand Charm, Small Charm of Good Luck, Lapis Small Charm of Good Luck
For the mercenary, he's not going to have the Infinity, he's not going to have the Fortitude, we'll probably put a mask on him like a Treachery, which is one of the most popular options for running tons of Chaos, Baal and Cows, with a nice boost to increased attack speed, resistance and more.