ACNH Festivale 2023 Guide: Date, Items, Clothes, Reactions, DIYs, Feathers, Rewards of Animal Crossing Festivale Event
1/1/2023 11:42:02 AM
Read our ACNH Festivale Items & Event 2023 Guide to discover the date, new furniture, costumes, reactions, DIY recipes, feathers, and Pave rewards of the first spring event in Animal Crossing New Horizons.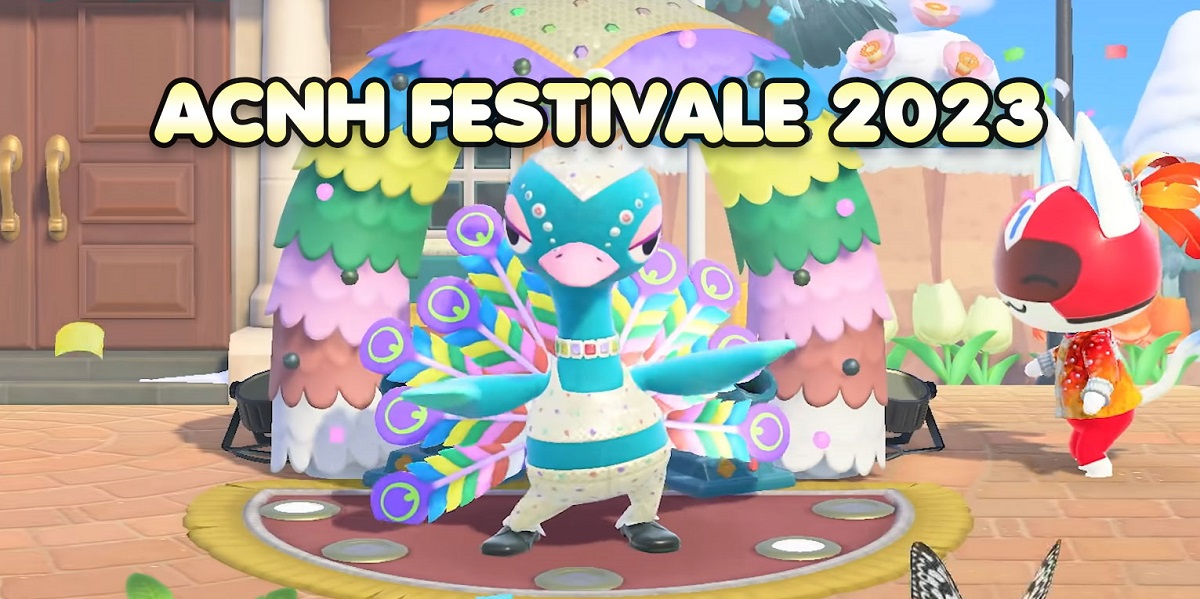 ACNH Festivale Event 2023 Guide (Festivale Items, Costumes, Reactions, DIYs, Feathers, Rewards)
Festivale is an event that occurs in Animal Crossing and is based on the real-world Mardi Gras event and the last day of Carnival, typically Pave - the dancing peacock stops by to host the event, whilst confetti fills the entire town or island. During the event, there's lots of dancing, mini-games, and catching colorful feathers. Depending on which version of Animal Crossing you're playing through, the ultimate goal of festivale across all versions is to unlock and obtain furniture from the festival-themed furniture set.
ACNH Festivale Event 2023 Date & Time
ACNH Festivale event of 2023 will be held by Pavé on January 20th, until 5 AM the next day. While, actually starting from the beginning of February, you can prepare for the Festivale by purchasing Festivale-themed items (furniture & clothing) from Nook's Cranny. Then on the Festivale day, you can meet Pave and join the event to collect feathers and rewards.
ACNH Festivale 2023 Changes
This year's ACNH Festivale will be held earlier than in 2022 due to the fact that Carnival's real-world date has also been moved up. In addition to the change of the holding date, we always look forward to Nintendo adding new items and content, as usual, to keep the event fresh.
ACNH Festivale Process & Activities (2023)
As with all other ACNH seasonal events, the greatest joy of participating in the Festivale is undoubtedly getting items and prizes related to the event theme, including furniture to decorate our islands, costumes and emotes to adorn our characters. So, to get these Festivale items, let's first understand how you need to participate in the event and perform those activities.
How To Join the Festivale Event 2023 & Get Pave Rewards?
1. Starting from February 1st until the Festivale, you are able to purchase three new pieces of themed Festivale Clothing and four new Festivale Reactions from Able Sisters

2. Start from 9AM on February 20th, wear your Festivale clothes and meet Pavé on his Festivale stage at your plaza, he will ask you to collect feathers for him to exchange rewards (Festivale items) and give you a DIY recipe for a Rainbow Feather

3. Start from 9AM to 12AM on February 20th, collect multi-colored Feathers floating all over the island for Pave, then hand 3 same-colored Feathers to him and get a random Festivale-themed furniture item as reward

4. During the event time, if you want to collect Festivale items in a specific color from Pave, make sure to give the feathers match the furniture variant you want.
ACNH Festivale Items 2023 (Pave Rewards)
You won't want to miss out on getting these colorful items at the Festivale event, and they're great decorations for spring and summer-themed islands.
ACNH Festivale Furniture 2023
There are a total of 10 Festivale items available as rewards from Pave, and with the exception of the Festivale Float, the other 9 come in 5 color variants (Green, Red, Blue, Purple, Rainbow).
Here is the full list of ACNH Festivale Set Furniture Items:
Festivale Balloon Lamp

Festivale Flag

Festivale Stage

Festivale Parasol

Festivale Garland

Festivale Stall

Festivale Drum

Festivale Confetti Machine

Festivale Lamp

Festivale Float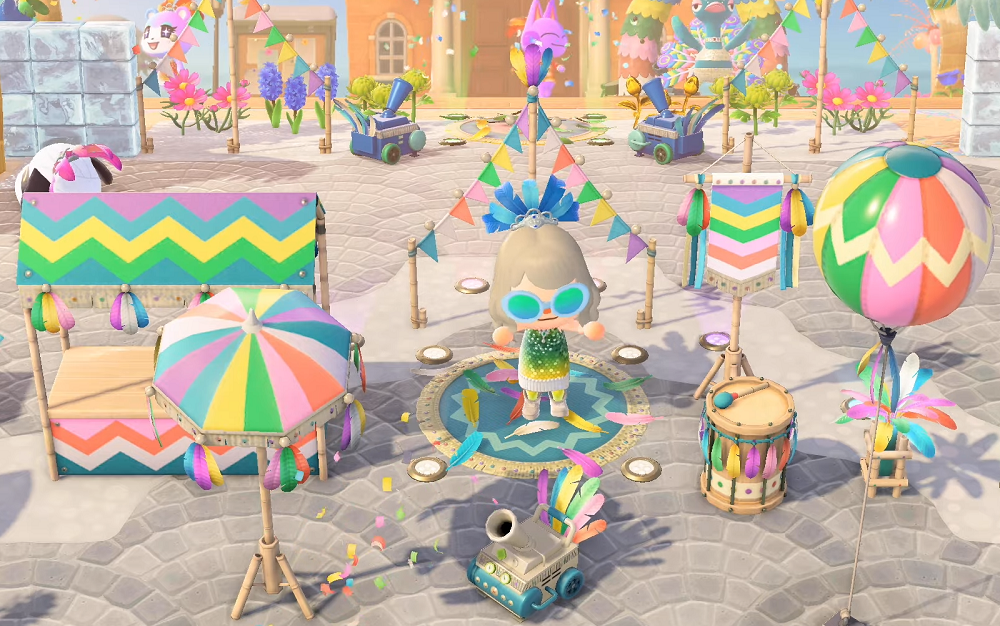 How To Get Festivale Furniture (and Different Color Variants):
Trade three common feathers of the same color to Pavé to get a piece of Festivale furniture of the corresponding color during Festivale. The color of the feathers you trade will determine the style of the furniture Pavé gives you, for example, trade three green feathers with Pavé and you will receive a piece of green Festivale furniture.

Trade a rainbow feather to Pavé during Festivale, and you'll get rainbow-colored Festivale items, except the Festivale Float.

Craft the furniture items into other color variants with Rainbow feathers

Trade three rainbow feathers with Pave for a Festivale Float during Festivale.
ACNH Festivale Clothes 2023
There are 3 new Festivale costumes available in 4 color variants (Green, Red, Blue, and Purple) for celebrating the Festivale event, and Pave will ask you to wear these colorful outfits when you exchange feathers with him.
Here is the full list of ACNH Festivale Clothing:
Festivale Accessory (2,240 Bells)

Festivale Costume (2,600 Bells)

Festivale Tank Dress (2,600 Bells)
How To Get Festivale Costume
Starting from February 1st to February 20th, all Festivale clothing items will be on sale at Able Sisters in random color variations, you can go to check and buy different variants every day if you want.
ACNH Festivale Reactions 2023
What's more, Festivale reaction set including the new reactions can be unlocked to help you enjoy the event more deeply:
Confetti

Feelin' It

Let's Go

Viva
How To Viva Festivale Reaction Set:
Starting from February 1st to February 20th, you are able to purchase the Festivale Reaction Set from Nook's Cranny with bells.
ACNH Festivale Feathers 2023
On this very special day, a blizzard of confetti will fall from the sky along with colorful feathers:
Red Feather

Blue Feather

Green Feather

Purple Feather

Rainbow Feather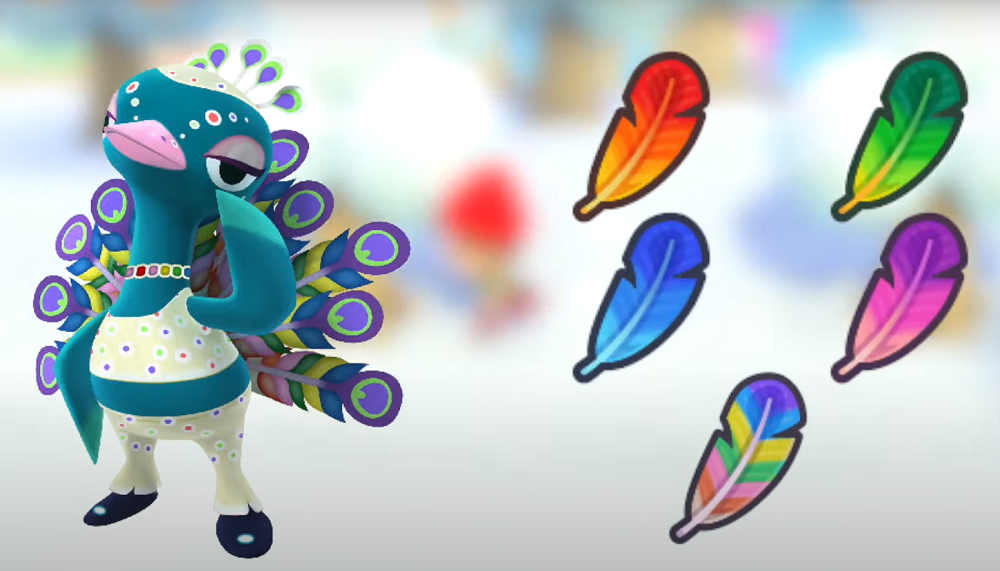 How To Get Normal Color Feathers:
Catch feathers with the net as they whirl in the air during Festivale, similar to seasonal items like maple leaves and snowflakes

Exchange feathers with your villagers during Festivale, villagers will want feathers of the same color as their outfits and give you feathers of the same color as your outfit.
How To Get Rainbow Feathers:
Catch Rainbow Feathers - During Festivale, if you are lucky, you will also be able to catch very rare rainbow feathers falling from the sky with a net. To capture the different types of feathers we will have to use a screen and press the A button when we find ourselves in front of a feather. To guarantee the capture we can aim by holding down the A button.

Craft Rainbow Feathers - On Festivale, talk with Pavé at Resident Services after wearing your Carnival costume, he will give you the Rainbow Feather DIY recipes (1x Red Feather, 1x Blue Feather, 1x Green Feather, 1x Purple Feather), then if you have enough feathers you can easily craft the Rainbow Feather at any DIY Workbench.
What To Do With Festivale Feathers in Animal Crossing New Horizons?
Exchange Pave's Rewards - To get free rewards from Pave, Festivale Furniture items, you need to collect feathers.

Customize Festivale Items - Rainbow Feathers can be used to customize the furniture items you just earned at any DIY Workbench

Accessorize Your Festivale Fashion Style - Use these feathers to dress yourself up for the perfect Festivale fashion look, or even for a summer vacation look.
How Many Festivale Feathers You Need (Especially For Festivale Items)?
To exchange all 10 Festivale items from Pave, you will need at least 27 regular color feathers (3 of the same colored feathers for 1 piece of Festivale furniture) and 1 rainbow feather (for Festivale Float)

To customize every Festivale item once, you will need at least 13 Rainbow Feathers, but you can craft rainbow feathers with regular-colored feathers.