ACNH March Update 2023 - New Events, Items, DIYs for Animal Crossing New Horizons Spring 2023
2/8/2023 3:33:23 PM
In the month of March, we are going to see signs of spring in Animal Crossing New Horizons. Nature is changing and the iteration of old and new is ongoing. As usual, let's take a look at the new events update, dates, items, and DIYs throughout the ACNH March Spring update 2023.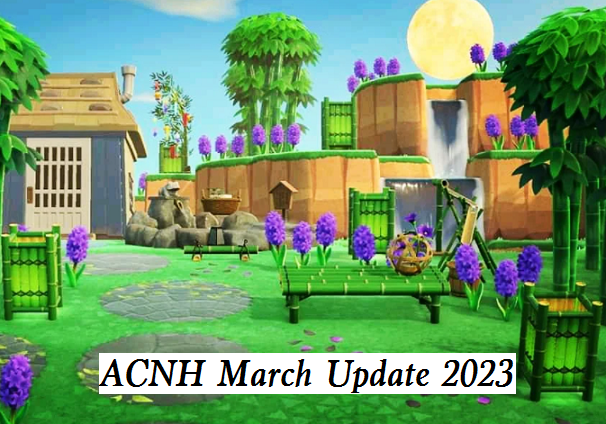 ACNH March Update 2023 - New Events & Items for Animal Crossing New Horizons Spring 2023
In March 2023, there are no major events and holidays hosted in Animal Crossing New Horizons, but we still have some fun celebrations and limited-time seasonal items to obtain. We also expect something new about the third anniversary of ACNH.
1. Hinamatsuri Festival (February 22 to March 3)
The first seasonal event that is going to happen from the end of February to the beginning of March 2023 is the Hinamatsuri Festival, which is also known as the Girl's Day, takes place on March 3 each year in the real world, this holiday is meant to pray for the health and happiness of young girls, in Animal Crossing New Horizons, you'll have the Hinaningyo and Blossom Lantern can be purchased from Nook Stop.
Seasonal items: Hinaningyo, Blossom Lantern
2. π Day (March 1 to March 14)
The next one is a fun event to honor the mathematical content π or pi, as the first digits are 3.14, the seasonal item for this minor event will start to appear in the game from March 1 to March 14, and sell at 314 bells.
Seasonal items: π pie
3. Shamrock Day (March 10 to March 17)
Shamrock Day, also known as St. Patrick's Day, derives from a real-life holiday. It is celebrated on three different occasions, as a Nook Shopping seasonal event, you can pick three items from Nook Stop in special goods under the seasonal tab for a limited time. As an Able Sisters seasonal event, you can buy the other four items listed below. In addition to that, the Shamrock Wand needs to be obtained through crafting with DIY recipes.
Nook Shopping Seasonal items: Shamrock Rug, Shamrock Soda, Shamrock Doorplate
Able Sisters Seasonal items: Shamrock Hat, Shamrock Shoes, Shamrock Suit, and Shamrock Sunglasses
4. April Fool's Day (March 26 to April 1)
Before March ends in ACNH, there is another seasonal event to be celebrated, which is April Fool's Day. Starting from March 26 and lasting until April 1, you'll have a chance to purchase the whoopee cushion in red, green, and yellow.
Seasonal items: Whoopee Cushion
ACNH March Update 2023 - DIY Recipes and Crafting Materials for Animal Crossing Spring 2023
ACNH Spring dates are from February 25 to May 31. For Northern Hemisphere in New Horizons, there is only one series of DIY recipes for crafting bamboo-themed Animal Crossing items. And in Southern Hemisphere, starting from March 1 to June 10, players can collect Acorns and Pine Cones to craft items from Tree's Bounty series.
ACNH Bamboo Season 2023
- Dates: February 25 to May 31
- Main crafting materials: Bamboo piece, Young Spring Bamboo, Bamboo shoot
- Bamboo Items & DIY recipes:
Bamboo Basket: 7xBamboo Piece
Bamboo Bench: 8xBamboo Piece
Bamboo Candleholder: 2xClay, 3xBamboo Piece
Bamboo Drum: 2xSoftwood, 3xBamboo Piece
Bamboo Floor Lamp: 8xBamboo Piece
Bamboo Flooring: 15xBamboo Piece
Bamboo Lattice Fence: 6xBamboo Piece
Bamboo Lunch Box: 4xBamboo Piece
Bamboo Partition: 6xStone, 7xBamboo Piece
Bamboo Shelf: 15xBamboo Piece
Bamboo Speaker: 1xIron Nugget, 3xBamboo Piece
Bamboo Sphere: 3xBamboo Piece
Bamboo Stool: 5xBamboo Piece
Bamboo Stopblock: 3xBamboo Piece
Bamboo Wall: 15xBamboo Piece
Bamboo Wall Decoration: 1xBamboo Piece
Dark Bamboo Rug: 5xBamboo Piece
Hearth: 5xHardwood, 5xIron Nugget, 4xClay, 2xBamboo Piece
Bamboo Doll: 6xYoung Spring Bamboo
Bamboo Noodle Slide: 3xWood, 7xYoung Spring Bamboo
Bamboo Wand: 3xStar Fragment, 6xYoung Spring Bamboo
Bamboo-Grove Wall: 7xYoung Spring Bamboo, 3xBamboo Shoot
Bamboo-Shoot Lamp: 4xClay, 4xYoung Spring Bamboo, 5xBamboo Shoot
Basket Pack: 6xYoung Spring Bamboo
Green-Leaf Pile: 10xClump of Weeds, 1xYoung Spring Bamboo
Light Bamboo Rug: 6xYoung Spring Bamboo
Pan Flute: 7xYoung Spring Bamboo
Steamer-Basket Set: 6xYoung Spring Bamboo
Light Bamboo Bath Mat: 3 Young Spring Bamboo
Yellow Bamboo Mat: 3 Young Spring Bamboo