ACNH Cooking Items 2021 - Food Items, DIY Recipes, Cooking Tools & Furniture in Animal Crossing New Horizons 2.0 Update
10/27/2021 5:10:26 PM
Cooking is coming to Animal Crossing New Horizons in the 2.0 Update on November 5th, that you can now cook various recipes including sandwiches, soups, and cakes, this ability comes along with the addition of new vegetables including tomatoes, carrots, potatoes, sugarcane, and wheat. We know you're excited to cook in ACNH, and we will teach you everything you need to know right now - with any good recipe you need to start with good ingredients.
ACNH Cooking Items & Recipes - What Items You Need for Cooking and How To Get Them?
Collecting vegetables and ingredients is crucial if you want to start cooking in Animal Crossing New Horizons, but to achieve a food item, you will need to do more preparation. Here we present the Animal Crossing New Horizons items you will need to be required for cooking by yourself in the game, as well as detail the way to collect them: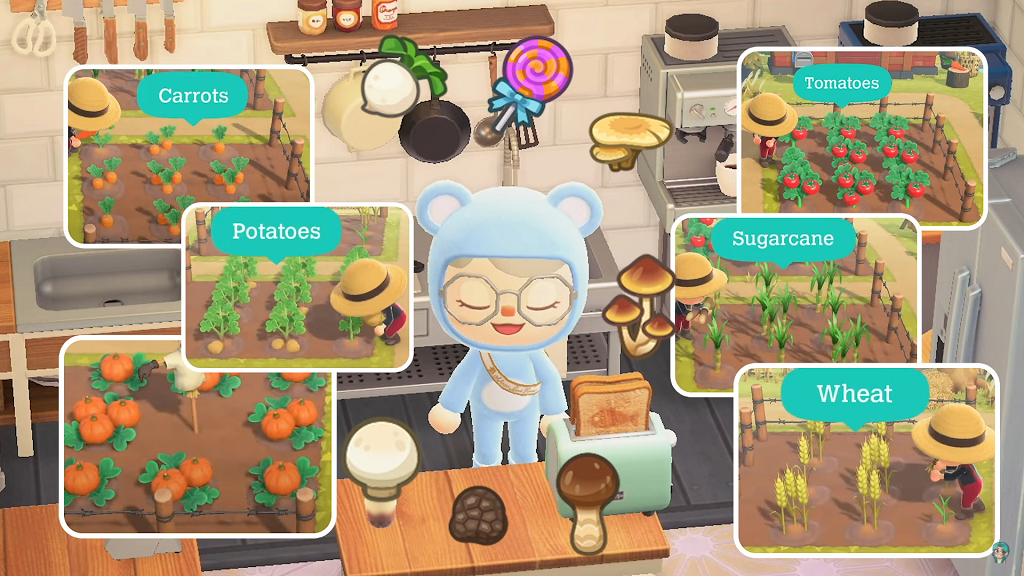 1. Cooking Ingredients (Vegetables, Fish, and More)
Here is the list of the ACNH cooking ingredients we know so far:
Pumpkins

Sugarcane

Tomatoes

Wheat

Carrots

Mushrooms

Fish

Candy

Lollipops

And More
You already know you can grow pumpkins in bunches of one two or three, with the 2.0 update you will also be able to grow sugarcane, tomatoes, potatoes, wheat, and carrots, this means that all these new plants will be part of recipes that you can cook and then eat. All the new vegetables will have the same growth pattern as pumpkins, where the amount you water them determines how many will grow. You will want to grow three of each vegetable per harvest, so you can grow all the vegetables you'll need so you have enough to start cooking. The same as pumpkins, all these harvestable vegetables will grow year-round, so you'll always be able to grow some when you want to cook.
To get started, you'll need to grow at least nine of each vegetable including pumpkins, so you have enough ingredients to start cooking. We can also see here that mushrooms will be ingredients you can cook with, so when the mushroom season starts in November, you need to keep your eyes peeled for them.
In October, we also see candy and lollipops as an item you can buy and eat, so it's very likely that we'll see some cooking recipes that also require that candy and lollipop to cook them, so you'll want to stock up on candy and lollipops while they're being sold in Nooks Cranny for Animal Crossing bells throughout October because after October you won't be able to find them and then you won't be able to cook those certain sweet recipes.
2. Base Ingredients (Sugar, Flour & More)
We can also discover flour, sugar, salad dressing from the trailer of 2.0 update which you'll need to use as base ingredients to make more complex dishes, and since you can grow wheat and sugarcane, you'll need to harvest enough of those plants to then cook into the flour and sugar. This cooking mechanic has been really thought out and rivals even the best cooking simulators.
3. Cooking DIY Recipes
But before you can start cooking, you will also need to visit the kiosk in resident services and buy the Be A Chef! DIY Recipes+ for 2000 nook miles, this will be the starting set of foods you can make with more cooking DIYs being added to the game later, most likely as part of seasonal festivities like Turkey Day, the festive season, and even easter with some tasty chocolate recipes using eggs.
4. Kitchen Cooking Tools
In the recipe bar, we can see three new icons a food platter, a slice of cake, and a whisk tool, this means you'll be able to cook savory dishes, sweet dishes and make designated cooking tools like a whisk spoon, spatula, and more. You'll be able to make fancier dishes by making these kitchen tools and then you can also place them as an item in your house or outside to put the finishing touches on any kitchen build you make.
5. Kitchen DIY Table & Cooking Furniture
The cooking recipes are considered DIYs, but you can't just use any DIY table to cook, you'll need a special kitchen DIY table like the stonework kitchen, aside from it looking so authentic and amazing. You'll be able to go up to it and start cooking, the mechanic will be the same as when you make DIYs, but instead, you'll have to make sure you have all the necessary ingredients and vegetables in your pocket to make the recipe.
ACNH Food Items - What Savory & Sweet Dishes You Can Cooking?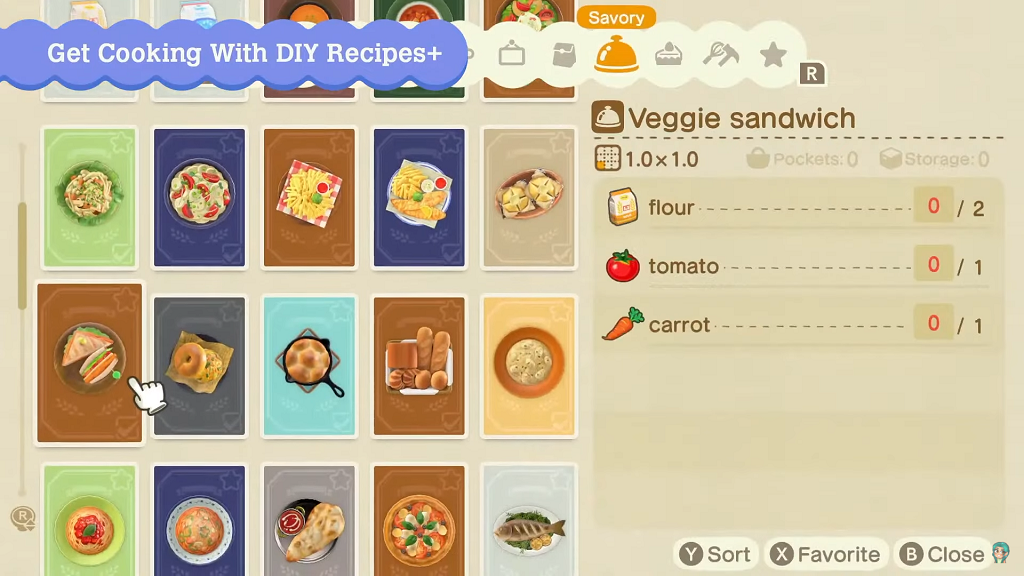 You'll know you'll be able to cook food when you see the Nook Phone DIY App has a whisk on it, here we can see the foods you'll be able to make including:
Pumpkin Soup

Minestrone Soup

Salad

Mushroom Salad

Pasta

French Fries

Chicken Tenders

Buns

Sandwiches

Pickles

Bagels

Bread

Calzones

Pizza

Fish

Drinks

Jars - You'll be able to preserve various ingredients in jars including fish, preserving food will probably be another cooking DIY, so you want to look out for that so you can preserve your food so they don't go rotten. Just like turnips, they do rot after week so it is possible that the food items will rot if you don't use them right away, it's also likely we will see turnips to be used as an ingredient in these food recipes.

Regular Food-Related Items - In addition to using the vegetables to make food items, you'll also be able to make regular items such as this harvest basket filled with food that you can place outside and inside.

And more
Food Items Usage - What To Do After You Get Food Cooked?
1. Eat Food Items
Once you have all your food cooked, you can even eat them to gain the power to dig up trees, by eating one piece of fruit or mushroom or turnip you only gain one power, but when you eat cooked recipes, you gain five power this is great if you want to dig up a lot of trees. But don't want to stand there eating one piece of fruit at a time, eating a cooked food recipe will be like eating five pieces of fruit at once, of course, if you eat too much you can always use the toilet to relieve yourself.
2. Place or Store Your Food Items
Here you see the minestrone soup recipe, it looks like a typical DIY but the materials are now foods, you can also see this small platter icon from the trailer which means once this food is in your pockets, it will appear as a silver platter. The background of this food DIY also looks like a tablecloth which is nice attention to detail. If you make too many food items at once, you'll be able to put them in your storage for later. Although it would make more sense if you could put them in a refrigerator for storage, it looks like all storage is just lumped together - food and items. Many of these food items, you can make appear to be what villagers can hold and eat while walking around your island, it does look like the food items you cook will be available for you to hold and eat, so you can finally match with your villagers.
For cooking the recipes, you surely will start farming vegetables on your island, you can store up to 10 vegetables in one inventory slot to save room, also dig up your vegetables and plants when you want to move them on your island. This feature is so exciting because it introduces new gameplay and you can finally build a functioning farm on your island with produce you can harvest and a multitude of farm-related items like scarecrows, shovels, silos and wheelbarrows. All these features get added to Animal Crossing New Horizons on November 5th, so be sure to update your game on that date.