Elden Ring God Tier Warrior Holy Build Guide at Level 150| Faith & Dexterity Build for Warrior
8/10/2022 10:31:05 AM
Take a look at the Best holy Build, the ultimate warrior Elden Ring god tier build a Faith and Dexterity Build that crushes enemies and bosses.
Attributes & Stats at Level 150
We'll have enough health and enough FP to be able to use, anything that we have in this build, we are going to be using dexterity as our second punch, but intelligence is a 9 but faith at 81, because of the helm halley 3 helm is helping us by one additional point.
Vigor: 35

Mind: 30

Endurance: 25

Strength: 17

Dexterity: 30

Intelligence: 9

Faith: 81

Arcane: 8
Equipment of God Tier Warrior Holy Build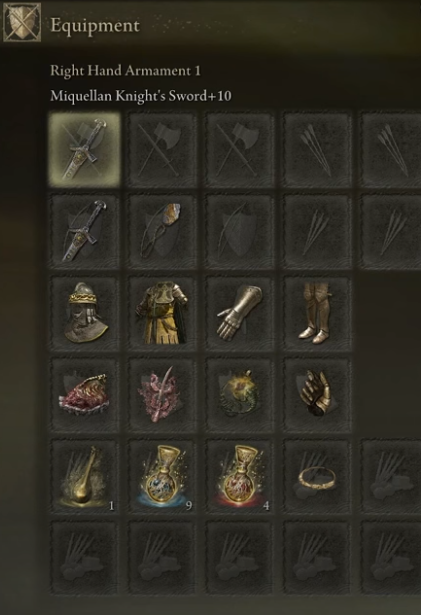 Weapon: Miquellan Knight's Sword (Prayer room)
You're looking at this attribute scaling, but don't let that fool you, this is definitely a build that hits with a punch and also the other good thing is it takes a punch as well, so you are not going to be killed easily making us got to your level so strong that we are going to be killing anyone, so where do you get this weapon, by the prayer room, you are going to go from the prayer room, you are going to go through this door up the stairs and you are going to go up around this log and then down and it's right underneath this bell, pick it up and this sword is going to be yours, and just take a look at the different stats of this sword right, don't let this sword fool you, because it is powerful.
Seal: Sacred Stone Seal
Helm: Haligtree Helm
Chest Armor: Leyndell Knight Armor
Gauntlets: Leyndell Knight Gauntlets
Leg Armor: Leyndell Knight Greaves
Talisman:
Shard of Alexander - Greatly boosts the attack power of skills.

Rotten Winged Sword Insignia - Greatly raises attack power with successive attacks.

Millicent's Prosthesis - Boosts dexterity, raises attack power with successive attacks.

Sacred Scorpion Charm (Smoldering Church) - Raises holy attack, but lowers damage negation.
Quick Elden Ring Items:
Flask of Wondrous Physick - Holy-Shrouding Cracked Tear (Temporarily boosts holy attacks) or Thorny Cracked Tear (Temporarily boosts successive attack power)

Flask of Crimson Tears

Flask of Cerulean Tears
Incantations:
Flame, Grant Me Strength

Golden Vow - Giving us more offense.

Wrath of God - It uses a lot of FP but anything around it gets knocked down.

Lightning Spear - We need to just pretty much, just keep anyone that's trying to get close to what we are going to be using that, but then you could also use your sword if you buff your sword you can see that blade throw that golden sphere, dealing lots of lots of damage so you could guys use that, and at the same time just counter-attack with a very very strong attack with your weapon fully buffed up 100 more points.