Elden Ring Best Reaper Builds: OP Halo Scythe, Winged Scythe, Quality Grave Scythe Build Guide
7/27/2022 7:44:48 PM
Some of the Reapers are the best weapons in Elend Ring, in this guide, we are going to go over the Best Reaper Builds which even can one-shot bosses at the endgame!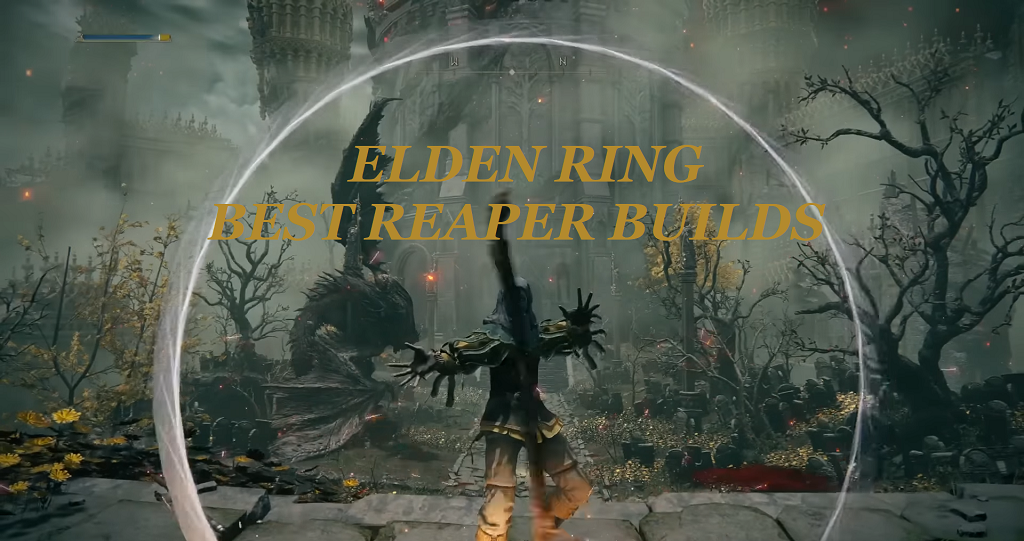 Elden Ring Best Reaper Scythe Builds
In Elden Ring, Reapers have been one of the best weapons you want to use. And generally, there are two methods for most players to play with a reaper: Use two handing a reaper and using the moveset of that and leaning into the Ash of War or Weapon skill on that reaper, or Dual Wielding reapers and using something like jump attack build and weapon skill. Here we present the best scythe builds with the best reaper weapons in Elden Ring, which feature different playstyles!
1. Best Halo Scythe Build - Dual Scythe Holy Reaper Build
The very clean and easy-to-use holy build makes the use of the halo scythe which is able to use Miquella's Ring of Light ash of war, it does an insane amount of damage and can fly off a really incredible distance. We actually have wondrous physic that boosts the holy attack damage as well as a talisman that increases our holy damage specifically with this weapon build, so that our kind of like holy rings of light share do insane amounts of damage. It's extremely effective to use, surprisingly the bigger the enemy, the easier it is to deal with him. You can also do the jump attacks for this weapon using dual ones does an incredible amount of physical damage. We think for both PVP and PvE, this will be an excellent weapon to have.
Setup for the Halo Scythe Build
Attributes Points (For 150 Level)
Vigor: 40

Mind: 28

Endurance: 30

Strength: 20

Dexterity: 75

Intelligence: 9

Faith: 30

Arcane: 7
Spells (Ash of War)
Weapons
Right Hand: Halo Scythe

Left Hand: Halo Scythe
Armor
Head: White Mask

Chest: Zamor Armor

Arms: Blaidd's Gauntlets

Legs: Fingerprint Greaves
Talismans
Sacred Scorpion Charm

Claw Talisman

Shard of Alexander

Carian Filigreed Crest
Wonderous Physick Mix
Stonebarb Cracked Tear

Holy-Shrouding Cracked Tear
2. Best Winged Scythe Build - Faith Black Flame Reaper Build
With this build, your main attack form will be using the Winged Scythe in the early stages of the game, specifically, that L2 special ability that both deals massive damage and also has a big range, your attacks consist of a rather fast charging jumping cross slash, immediately followed by a downward thrust after a split second of floating up in the air. It goes without saying that this moveset is absolutely devastating against any type of enemy, both on the primary hit and especially on the final blow. Skeletons in particular and other Unholy creatures are even weaker against Faith scaling receiving increased damage compared to other foes, the range of the weapon is also obviously very high which is also further helped by the fact that the angel wings ability makes your character move slightly in the direction you're aiming towards meaning that it's also kind of like a gap closer. Most important though this is an amazing AOE attack giving you a massive reach and even a cross slash that can affect multiple enemies in a large semi-circle in front of your character. Finally, the Scythe attack also provides a massive stagger build-up against any enemy including bosses and with a 55 blood loss build-up on it it means you're dealing two sources of damage with of course the blood loss dealing and increased damage which is very helpful early on in the game.
Setup for The Winged Scythe Build
Attributes Points
Vigor: 31

Mind: 21

Endurance: 24

Strength: 17

Dexterity: 17

Intelligence: 9

Faith: 30

Arcane: 9
Spells (Ash of War)
The Queen's Black Flame

Angel's Wings

Flame, Grant Me Strength
Weapons
Right Hand: Winged Scythe, Godslyaer's Greatsword

Left Hand: Godslayer's Seal, Black Flames Incantations
Armor
Head: Royal Remains Helm

Chest: Raptor's Black Feathers

Arms: Preceptor's Gloves

Legs: Preceptor's Trousers
Talismans
Radagon's Soreseal

Sacred Scorpion Charm

Arsenal Charm

Gold Scarab
Wonderous Physick Mix
Stonebarb Cracked Tear

Holy-Shrouding Cracked Tear
3. Best Quality Grave Scythe Build - Spinning Blood Reaper Build
The bleed builds with the most wonderful spinning deaf bloodside aesthetic and is able to kill millennium first phase in 7 seconds. The blood flame is obviously fantastic on any rapid hitting thing in the game, it works wonders because every individual bit of damage, adds bleed buildup that will keep going, so if you hit 10 times in a second that is 10 times 40 bleed that will now bleed up which is like five bleeds. But the thing is we're also using this on a weapon that has natural bleed and a hefty amount of solid base AR.
Setup for the Quality Grave Scythe Build
Attributes Points
Vigor: 57

Mind: 15

Endurance: 9

Strength: 55

Dexterity: 55

Intelligence: 16

Faith: 25

Arcane: 10
Spells (Ash of War)
Spinning Weapon

Flame, Grant Me Strength
Weapons
Right Hand: Quality Grave Scythe

Left Hand: Gravel Stone Seal
Armor
Head: White Mask

Chest: Spellblade's Traveling Attire (Altered)

Arms: Spellblade's Gloves

Legs: Spellblade's Trousers
Talismans
Shard of Alexander

Rotten Winged Sword Insignia

Millicent's Prosthesis

Lord of Blood's Exultation
Wonderous Physick Mix
Leaden Hardtear

Stonebarb Cracked Tear

Thorny Cracked Tear