ACNH Christmas Items 2022 & Event Guide: Toy Day Furniture & Clothes, Rewards & Gift Exchange in Animal Crossing
11/3/2022 11:35:57 AM
As we get closer to the winter season, the Christmas holiday is what we expect in the December update of Animal Crossing New Horizons. Now, let's talk an early look at ACNH Christmas Toy Day event guide 2022, featuring start time, new items (themed furniture, clothing, Jingle & villager rewards), gift exchange, and more.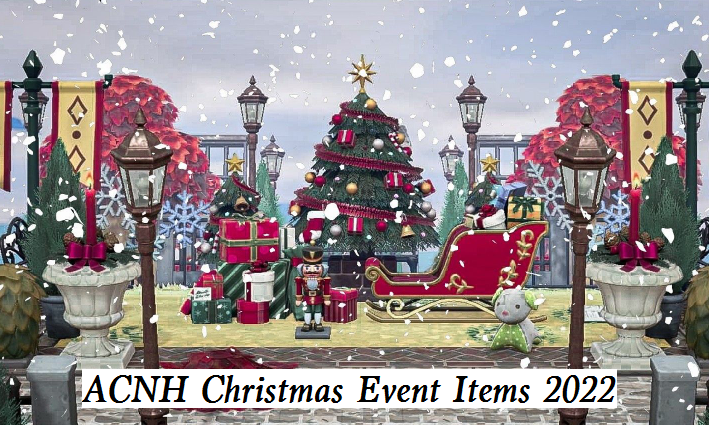 ACNH Christmas Event 2022 Date - When Does Toy Day 2022 Start in Animal Crossing
In celebration of Christmas Day, Nintendo added the Toy Day event to Animal Crossing New Horizons, it takes place on Christmas Eve every year, which is December 24, including 2022. ACNH Toy Day 2022 is a big regular event held by the character Jingle, and actually begins at 5 AM on December 24 and lasts for a whole day, then end at 5 AM the next day on December 25, 2022.
New ACNH Christmas Items 2022 - Animal Crossing Toy Day Furniture, Clothes, and Rewards
The basic rule of the Toy Day event in 2022 would not have a big change, the existing items will be available during the event in the game as well. Let's take a look at the ACNH Toy Day items 2022, covering toy set furniture, outfit, and clothing, as well as some other special items.
ACNH Toy Day Furniture Items 2022
From December 1 to December 25, players can purchase these toy set furniture items in Nook's Cranny using Animal Crossing bells, each of them has different color variations, but you can only buy one variation of each item from the shop on your island and they can't be customized. If you want to get them in other colors, you can trade them with others or buy them at MTMMO.
Dinosaur Toy (Gray, Brown, Green, Blue, Red): 2400 Bells
Dollhouse (Red, Green, Brown, Blue, Pink, Orange, Purple): 4000 Bells
Kids' Tent (White, Pink, Floral, Blue, Brown, Black, Stripes, Colorful): 4500 Bells
Mini Circuit (Red & White, Blue & Yellow, Black & Silver, Pink & Purple): 3800 Bells
Pop-up Book (The Ocean Blue, The Mesozoic World, Savannah, Flowers): 2000 Bells
Puppy Plushie (Beige, Red, Lemon & White, Spotted, Black, Tricolored, Gray & White, Pink): 2400 Bells
RC Helicopter (Blue, Red, Yellow, Green, Pink, Light Blue, Purple): 3600 Bells
Tin Robot (Silver, Blue, Red, Orange, Yellow, Green, Pink, Black): 3500 Bells
Set of Stockings (Colorful, Cute, Cool, Chic, Elegant, Natural): 2000 Bells
ACNH Toy Day Clothing Items 2022
You can also purchase Santa outfits and clothes from Able Sisters on Toy Day, this is up to you.
Santa Hat
Santa Beard
Santa Coat
Santa Pants
ACNH Toy Day Rewards 2022 from Jingle and Villagers
There are some special Animal Crossing New Horizons items that need to be obtained in different ways, you need to talk and interact with Jingle and villagers.
- Festive Wrapping Paper DIY recipe: find Jingle outside the Resident Services and speak to him.
- Toy Day Stockings & Magic Bag: craft and give 3 Festive Wrapping Papers to Jingle.
- Gift Pile DIY recipe: deliver gifts to over half of the villagers.
- Toy Day Sleigh: delivers gifts to every single villager.
- Jingle's Photo: hang up the Toy Day Stockings on the wall and interact with the stockings beginning on December 25 and ending on January 1, you may find the Jingle's Photo inside the stockings.
Gift Exchange on ACNH Toy Day 2022
Gift exchange is another method that allows you to acquire items from the Animal Crossing Toy Day series. To do the gift exchange during the Toy Day event, you need to craft or buy the Festive Wrapping Paper first, which is used to wrap your present.
Once you prepared a wrapped gift, select any villager on your island and talk to him or her, choose the "Let's exchange gifts!" option. Then, open your inventory and give the villager your present, then he/she will give you a wrapped gift in return. You'll have the chance to exchange toys that are different from what is sold at the shop.