Animal Crossing New Horizons May Update 2022: 6 Details & Tips in May 2022
5/4/2022 11:29:15 AM
Welcome back, now is the month of May, which means seeing the next wave of changes and updates around the new horizons island over the coming weeks. Taking a look at the latest holidays and seasonal events, expect to see along with any relevant changes as well as highlighting some of the smaller details, such as new weather phenomena, encounter amongst other things plus, there's even a new item or two, so stick around for those.
Of course, covering both hemispheres, here are six changes and new additions during the month of May.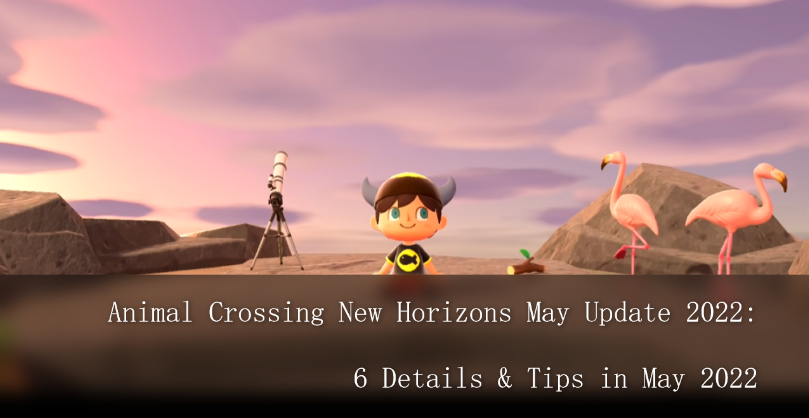 Animal Crossing New Horizons May Update 2022: 6 Details & Tips in May 2022
1. Holiday events
Now May 2022, two annual events return, including May day and the hugely underrated international museum day.
- The first is May day which is a super fun event that sees players visit a mayday tour to take part in a maze activity and win prizes. It takes place between April 29th and May 7th and gives players the chance to play through a mini-game of sorts to meet the rover and earn exclusive prize prizes including the rover's suitcase and rover's photo, but depending on when you started your new horizons journey.
- International museum day which runs from May 18th through to May 31st international museum day sees blathers host a stamp rally across. All areas of the museum with the goal of locating various stamps to earn prizes including the art bug fish and fossil plaques, it takes what would typically be a seasonal event and gives it a nice activity and something different to do plus, unlike mayday you can do this event multiple times.
2. Seasonal materials
Seasonal materials now nothing much changes on the season materials front for the northern hemisphere, as young spring bamboo continues to spawn, all the way up to may 31st, however since the 2.0 update two new spring bamboo items were added including the yellow bamboo mat and the light bamboo bath map, May is the last chance to find these recipes on the main island for some time, however, players in the southern hemisphere will continue to see acorns and pine cones until June, but also see two new seasonal materials including mushrooms and maple leaves once again.
Thanks to the 2.0 update, these materials offer two new items including the acorn rug and the maple leaf rug which can be encountered alongside their corresponding seasonal material from May first through to May 31st and May 16th through to May 25th respectively.
3. Weather phenomena
Now May is of course the last month of the season which means various cloud formations will stop forming, here in the northern hemisphere, thin clouds will stop spawning towards the end of the month, similarly in the southern hemisphere, as players approach the upcoming winter months, cirrus and cyricumulus clouds will stop spawning too furthermore May 25th will be the last chance to encounter rainbows and double rainbows for several months.
4. Bushes
There is not too much change for bushes, in the northern hemisphere, because pink and white azalea bushes continue to bloom, however yellow and orange tea olives stop spawning at the end of April, with holy bushes blooming in their place from May 1st in the southern hemisphere, May is also the final month of the corresponding seasons, don't see too much change to things like trees or weather.
5. Seasonal events
Now on top of holiday events, May is a relatively busy month for seasonal events too, in total three seasonal events can be celebrated including children's day which runs from April 28th through to May 5th mother's day which runs from May 1st through to May 31st, of course, cheese rolling day towards the end of May from May 22nd through to May 31st, these three seasonal events all offer up at least one exclusive item that will be available from the next stop in honor of the real-world events.
6. Critters
Of course, it wouldn't be a monthly update, without highlighting the change in bugs fish and deep-sea creatures, encounter around the new horizons island here in the northern hemisphere may introduce 21 new critters, including the scorpion the Mahi and the Giga's giant clam amongst many others if any new players are interested, these critters in more detail players in the southern hemisphere have it slightly easier as may introduces only 13 new critters including the mole cricket the blue marlin and the snow crab, of course depending on when you started playing, these could be key to completing your museum, so be sure to donate them to brothers.
There are six changes and new additions can expect to see in the month of May, as well as a couple of items that may even be new for veteran players. What do you think about may and are you more excited for Mayday or the international museum day be sure to?
Buy animal crossing new horizons bells from professional ACNH bells store MTMMO.COM, constant delivery and safe deal!