25 Important Things You Can Do EVERY DAY In Animal Crossing New Horizons 2.0
11/12/2021 3:28:14 PM
25 different things that you should be doing every day in animal crossing 2.0, pleased to present a new edition for the Animal Crossing New Horizons 2.0 new update, this guide covering everything from the regular free update to the DLC here.
25 Important Things You Can Do EVERY DAY In Animal Crossing New Horizons 2.0
1. Visit the roost
Of course, the best way to start any day virtual or real life is to stop and get some coffee, so your first order of business is gonna be to visit the roost, and sometimes there are villagers here too, you can talk to them see how they're enjoying the new cafe, you can also after you've gone to the roost several times, he will let you get coffee to go, you just come to this right register, and you can order to-go coffee, it's the cutest thing in the world, if you're feeling generous, you can also invite someone to get coffee with you and not to alarm you, but these can be characters if you have their Amiibo who don't even exist in the game previously as you can see here. Used Rosetti's Amiibo to call him here, so he can get coffee you get to talk to these old characters, a lot of you have missed so much, you can also invite characters like daisy may and Isabel who certainly deserves a break from work.
2. Nook Shopping
The next thing you're going to want to do is to go shopping, first check the nook shopping app, because occasionally in this special goods tab, they will have a fourth item here, where the mesh cap is and it will be one of the special new items. To get a luxury car and the castle gate and castle wall, so that is cool.
3. Check nooks cranny
Once you've finished checking nook shopping go and check nooks cranny because they too can have the new items for sale, as you can see here, some new items in stock, so first of all this simple wall shelf which is so precious, this super cool antique map here, and some Shio ramen isn't that so cool, ramen you can also check the cabinet if you haven't already, there are basic cooking recipes here, that you can buy and there are also some new items that will be available in this slot, such as a duster like your villagers use.
4. Check out Abel sisters
Of course, the shopping does not end there, you are going to want to check out Abel sisters because they have so many cool new things in stock, if you haven't already, make sure you talk to sable as you grow a friendship with her, she will start to talk to you and she'll even give you special custom patterns, you can use for customizing your fabrics.
5. Captain daily trip
This next one, of course, you can do at any point in the day, but put it early on the list, because super excited about it, make sure you go on your captain daily trip, you can only take one trip per day for 1 000 ACNH nook miles, and who knows what kind of island, you'll get so make sure you do it every day.
Once you're on the island, there will be one gyroid for every island, so you just need to search and find where the little star in the ground is you will also always have a beach DIY, these DIY also depend on the season for your island, so if you get one of the specialty seasons like cherry blossom island, you will get a cherry blossom DIY, guessing the same for the winter islands, you can also get cooking DIY on these islands.
Got bamboo flooring which knows but check, because a lot of these DIYs are brand new, it's cool that you have access to some of the seasonal ones outside of that season now.
Of course, these are also rich islands for resources, you can check all of their rocks because several times now, one of the rocks has been a money rock, and of course, there are different fruits flowers, and shrubs on these islands that you should check out you can take them home if you'd like some of them even have the new crops and you can dig them up and take the whole plant home with you.
6. Plant gyroid and dig up
Once you get home from captain's island, go ahead and plant gyroid and dig up the one from yesterday. Yesterday's gyroid was a stelloid, what that looks like yet, then going to plant gyroid fragment and go ahead and water it. If you're not sure how gyros work you plant the gyroid fragment water it, just once you'll see this little steam come up to verify that you did water it, for the day and the very next day, you can dig it up, and you'll have a fully grown gyroid.
7. Assemble your gyroid army
The next step is to assemble your gyroid army.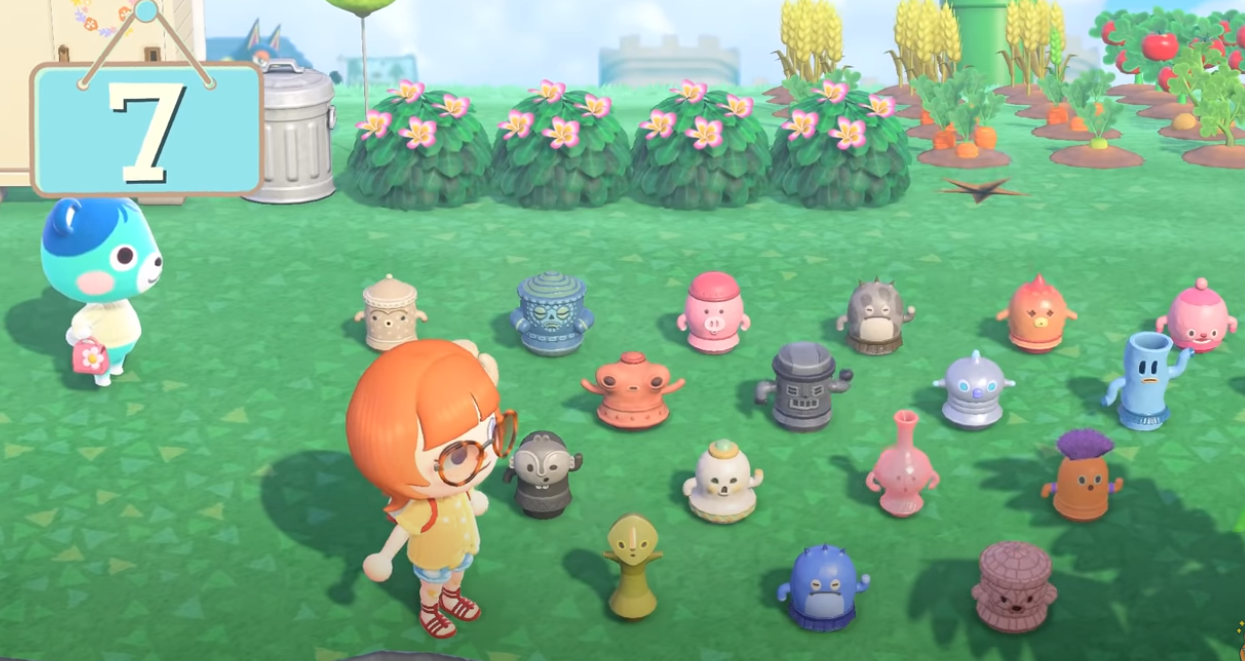 8. Regular island maintenance
As exciting as the update is you also need to do regular island maintenance like digging up, all of your fossils you can also have gyroids on your island, make sure you dig up all of those little starspots, even if it's a fossil and you've completed your fossil collection, you can always have the fossil assessed, and then gift it to a villager for maximum friendship points, you can also go ahead and get your bell tree for the day if you need bells to make sure you plant 10 000 bells instead of the regular 1000.
So that you can get a 30k return, if you plant 10 000 bells in animal crossing the tree that grows will have three sets of ten thousand bell bags, at this point you should also hit your rocks for the day, assuming you have a functional rock garden, not one that is just aesthetic, you can also check your mail. Check your mailbox every day, and sometimes you even have cool little new items.
9. Visit Harv's new island
To visit Harv's new island, if you want to know everything that you can do on this island, just check out everything that the vendors here can do for you, some specific new things though vendors like kicks and leaf can have new items in their shops, including the crops and some cool bags and even swords from kicks also. Once you have spoken to leaf and bought several things from him, he will give you the DIY for the adorable veggie basket.
10. Get your fortune from Katrina
Another thing you're going to want to do every day is to get your fortune from Katrina, she can talk to you about friendship with your villagers as well as your daily luck. It's worth doing because if nothing else, the animation is so precious and it's cool to see what she has to say about your day.
11. Check on your crops plant
Next up, you're going to want to check on your crops plant some if you have some to plant, and also remember to water them, because of these days.
12. Take care of your hybrid flowers
You're also going to want to take care of your hybrid flowers, that's not as exciting as the new crops, but water them continue hybrid flower breeding if you need to so that your island can be its very best. Next, you're going to want to talk to your villagers and give thfrageem gifts because they deserve them.
13. Check-in your villager's houses
You're also going to want to check in your villagers houses because on top of DIY crafting, they can also be cooking now. They'll also teach you to make what they're cooking, that's so adorable.
14. Nook miles
Look at them with their little pans for better or for worse nook miles are now super important to make sure you go through your miles plus and complete any of the goals that you can for the day that way.
15. Get nook miles bonus
You can start building up those miles for buying all of the incredible new items and going on cap and trips on that note remember to log into the nook stop every day so that you can get your nook miles bonus.
16. Getting 80 bonus miles
Getting 80 bonus miles, but once you get to 7, you'll get 300 miles every consecutive day that you come to the nook stop, so that's a good and easy way to get ACNH NMT faster, and while you're here check for the new fences, because as you can see, finally got one of them.
17. Carefully suppresses the urge to flatten
Another thing you should do every day carefully suppresses the urge to flatten, you should not do that you shouldn't restart.
18. Go around and pick up
You should do is go around and pick up, all of your seashells, there is a nook mile achievement you get for selling them, so that's something you could do every day to speed along that process because it does take a long time to get all of them.
19. Caught all of the fish bugs, and sea creatures
Another good daily habit to have is to make sure that you have caught all of the fish bugs and sea creatures that are available during the current time of day and time of year.
Gotten bad about collecting all of the critters, but keep track, so you can complete your museum, the museum especially the aquarium portion is so beautiful when it has ample creatures to fill it.
20. Tearing down build
Another thing you're going to want to do is to consider tearing down that build that you were so proud of yesterday but don't do it, because you're doing great sweetie and that build is as beautiful as you thought it was when you first built it.
21. Going to work
If you got the DLC, another thing you need to do every day is going to work, it's pretty much your duty now, and let's be honest the happy home paradise DLC is precious you're going to want to check that out and keep up with all of your villagers there.
22. Design a new home
Make sure you design a new home in the game every day, it is so fun and it allows you to practice with the new items, it gives you a chance to see a lot of the new furniture items.
23. Check on your old client's people
while you're at it make sure you check on your old client's people, you've already made homes for, and make sure they're still content with your work.
24. Buy all of the adorable new items that Wardell is selling
Discovering at the same time as you that sometimes, they'll even give you gifts like this old board flooring that Mallory has just generously gifted me, and of course, before you are done for the day, you're going to want to buy all of the adorable new items that Wardell is selling, they are incredible and you want those.
Last but not least, No.25 what you're gonna want to do every day is remember to enjoy the game and take it at your own pace.